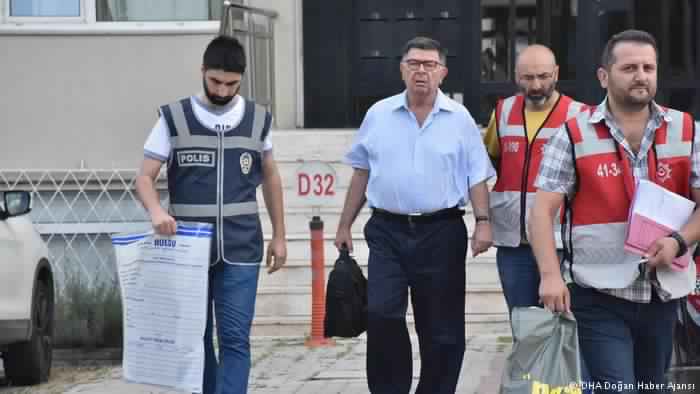 Sahin Alpay, a journalist for the now defunct Zaman daily, walked out of a Turkish jail on Saturday morning after a court ordered his conditional release late Friday.
"I am glad to be reunited with my family again but I cannot say I am free," said Alpay, according to the private Dogan news agency. "There are thousands I am leaving behind who have nothing to do with terrorism or the coup attempt. I believe Turkey will not be free if they are not free."
Alpay was held by Turkish authorities for 20 months after being accused of involvement in a failed coup in July 2016. Prosecutors claimed he was linked to terror groups attempting to undermine the Turkish state.
Travel ban, house arrest
Under the terms of his release, Alpay is barred from leaving Turkey and confined to his house for the duration of his trial. On Friday, Turkey's Constitutional Court ruled for the second time that the journalist's rights had been violated and requested he be released pending trial.
However, lower courts refused to comply with the request and kept Alpay in detention. He has denied any involvement in the failed coup and sworn to challenge the allegations made against him.
Post-coup purge
Since the failed coup, Turkey has launched a nationwide crackdown, arresting more than 50,000 people in the armed forces, police, schools, judiciary and media.
Turkey blames self-exiled Turkish cleric Fethullah Gulen for orchestrating the coup, claiming he operates a global network of supporters. Ankara considers Gulen and his supporters "terrorists."
'World's biggest prison' for journalists
Rights groups have lambasted the Turkish government for prosecuting journalists and media workers by using the country's anti-terror laws against them.
"The authorities have used their fight against 'terrorism' as grounds for an unprecedented purge," said Reporters without Borders in its 2017 report. "Dozens of journalists have been imprisoned without trial, turning Turkey into the world's biggest prison for media personnel."
Approximately 130 media outlets have been shuttered by Turkish authorities since the coup. According to the Turkish Journalists' Association, roughly 160 journalists remain in jail.