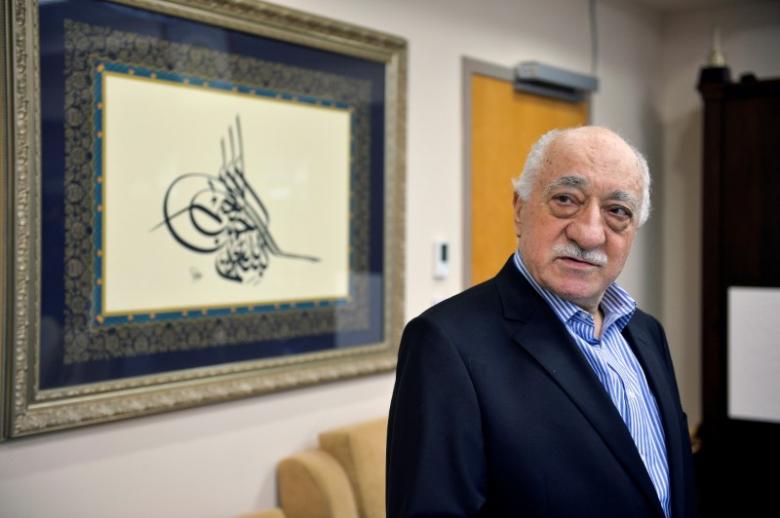 Turkey said on Monday it would strip citizenship from 130 people suspected of militant links, including the U.S.-based cleric it blames for orchestrating last July's failed coup, unless they return to the country within three months.
In a list of what it called fugitives from justice, the interior ministry named Muslim cleric Fethullah Gulen, pro-Kurdish Peoples' Democratic Party (HDP) lawmakers Faysal Sariyildiz and Tugba Hezer, and former HDP lawmaker Ozdal Ucer.
Gulen, who has lived in self-imposed exile in Pennsylvania since 1999, has denied involvement in the coup and condemned it.
The notice said the suspects identified in the list would be stripped of Turkish citizenship unless they returned to Turkey within the time limit and applied to the "relevant authorities".
Since the July coup attempt, authorities have arrested 50,000 people and sacked or suspended 150,000, including soldiers, police, teachers and public servants, over alleged links with terrorist groups.
While Turkish officials say the steps are necessary due to the gravity of the coup attempt which killed 240 people, critics in Turkey and abroad say President Tayyip Erdogan is using the coup as a pretext to muzzle dissent and purge opponents.
More than a dozen HDP lawmakers have also been jailed, mostly due to suspected links with the outlawed Kurdistan Workers' Party (PKK), which has waged a three-decade insurgency in Turkey.
The party's co-leaders, Selahattin Demirtas and Figen Yuksekdag, have also been jailed, handicapping its campaign against the April referendum where Turks narrowly voted for constitutional changes to grant Erdogan sweeping new powers.
The HDP denies direct ties to the PKK, which is considered a terrorist organization by the United States, Turkey and the European Union.
Reporting by Tuvan Gumrukcu; Editing by Mark Trevelyan; Reuters