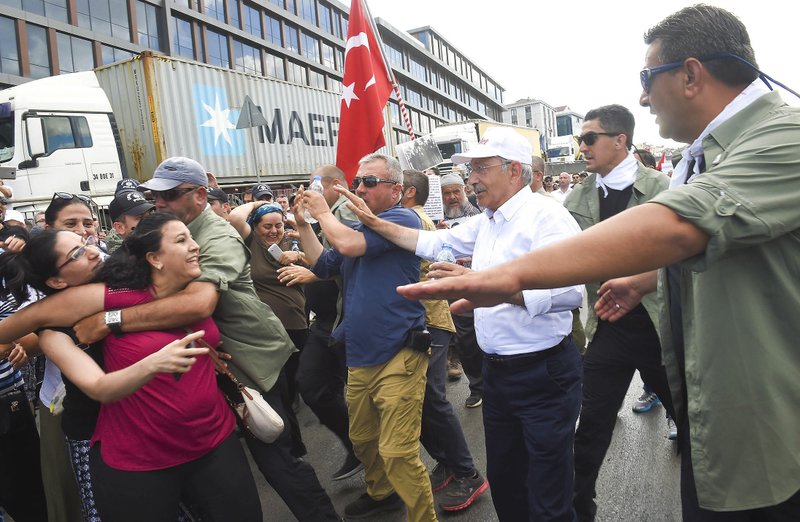 The leader of the main opposition party in Turkey was set to complete the final stretch of a 25-day "March for Justice" from the capital Ankara to Istanbul Sunday. Hundreds of thousands have already gathered for a rally marking the end of the march.
Republican People's Party leader Kemal Kilicdaroglu launched the 450-kilometer (280-mile) march after a parliamentarian from his party was imprisoned in June. The march has since grown to protest a massive crackdown on people with alleged links to terror groups that began after a failed coup attempt last summer.
Once seen as feeble in his role as opposition leader, Kilicdaroglu has emerged as the voice of many Turks and been likened to India's Mahatma Gandhi, who led a nonviolent march against British colonial practices.
Tens of thousands of people have joined Kilicdaroglu throughout his march in scorching heat, chanting "rights, law, justice."
Organizers say the march expresses "a collective, nonpartisan desire for an independent and fair judicial system" that they claim is lacking in Turkey.
The government has accused Kilicdaroglu of supporting terrorist groups through his protest. President Recep Tayyip Erdogan has said he is violating the law by attempting to influence the judiciary.
Turkey's definition of supporting terror is so broad that it has caused an impasse in the country's bid for European Union membership.
Parliament member Enis Berberoglu was sentenced last month to 25 years in prison for revealing state secrets for allegedly leaking footage to an opposition newspaper suggesting that Turkey's intelligence service had smuggled weapons to Islamist rebels in Syria.
In a New York Times op-ed Friday, Kilicdaroglu called the case against Berberoglu "the last straw in a series of antidemocratic moves" by Erdogan's government "targeting tens of thousands of Turkish citizens — politicians, journalists, academics, activists or ordinary citizens."
Following last year's failed coup, the government imposed a state of emergency leading to the arrest of more than 50,000 people and the dismissal of some 100,000 civil servants. A dozen lawmakers from the pro-Kurdish opposition party have also been jailed.
Ordinary citizens, sacked public employees and high-profile figures have joined Kilicdaroglu on his march. Novelist Asli Erdogan and leading Kurdish politician Ahmet Turk, both released from jail pending trial on various terror-related charges, as well as Yonca Sik, the wife of a prominent journalist currently in prison, were just a few.
Kilicdaroglu plans to walk the final three kilometers (1.9 miles) alone.
Istanbul governor Vasip Sahin said 15,000 police officers have been dispatched for security. The US Consulate issued a security message asking American citizens to exercise caution as "terrorists have targeted political rallies in the past, and that demonstrations and large events intended to be peaceful can turn confrontational and escalate into violence."