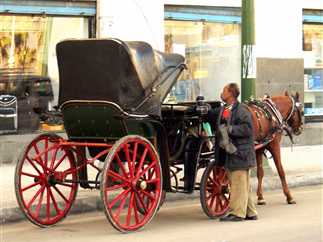 Major General Ahmed Ibrahim, the governor of Aswan, issued a number of instructions aimed at street maintenance, road reconstruction, and tourist site preservation in the governorate.
Ibrahim ordered the licenses of two cabriolets to be revoked and the owners to be find LE500 each for not committing to put manure catchers on horses polluting Kesr al-Hajar Street. 
Ibrahim also ordered the revocation of the licenses of two vehicles and for each to be fined LE1,000 after the two vehicles were washed on Philae and al-Shallal roads, causing damage to the asphalt.
Ibrahim, accompanied by Brigadier Ayman Reda, Aswan city mayor, instructed as well during a tour in Aswan the removal of random buildings around the entrance of the temples of Philae and that the area should be cleaned and landscaped.
He instructed that a road should be established linking the Philae area and the Nile Museum in preparation to turn it into an open tourist attraction, allowing tourists to visit more than one tourist attraction at once including temples, the Nile Museum and the Symposium Museum.
Ibrahim instructed that the Ministry of Antiquities should add to the list of archaeological sites in the Shallal area the archaeological wall, which belongs to the Middle Kingdom, and the dam, which was built at the time the old Aswan reservoir was built. He also called for the construction of a secondary road linking it to the Philae region.
The governor of Aswan instructed that the new linking road should be paved following the removal of rock and granite accumulations. Quarry renters will allow the authorities to use their heavy equipment to complete this task.
Edited translation from Al-Masry Al-Youm