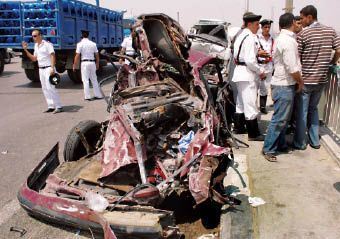 Two people were killed and 15 injured when three vehicles overturned at the 140-km mark on the Alexandria-Marsa Matrouh road, Al-Watan newspaper reported.
The accident, which occurred near the village of Hasambak village in Dabaa, was blamed on a leak from a truck carry fuel.
Several other vehicles, including a microbus, lost control on the slippery road surface and crashed, according to security officials who attended the scene.
Officials say the leak has now been cleared up and the road is safe.
Earlier this month, 22 people were killed on the Bahariya-Farafra road after a bus collided with a truck.
Egypt has one of the world's highest traffic-accident mortality rates, with traffic accidents themselves apparently on the rise.
In December, the government's Central Agency for Public Mobilization and Statistics (CAPMAS) said there were 6,916 accidents during the first half of 2015, compared with 6,685 accidents during the same period in 2014, an increase of 3.5 percent.
The high mortality rate is to some extent due to the large distances between ambulance stations in some areas, thus slowing paramedic response times.
However, the number of deaths has decreased recently, with 2,808 deaths in the first half of 2015, a decline of 2.7 percent on the previous year.