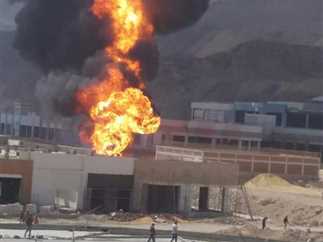 Two workers died and nine others were injured Saturday in an explosion caused by a gas leak at a site under construction in al-Jalala mountain.
Ambulances rushed to transport the injured to the Suez General Hospital, and fire engines moved to control the fire and the gas line was closed.
Director of the Suez Civil Protection Department moved to the scene accompanied by three fire engines and a Gasco company fire truck and put out the fire.
A security source confirmed that the accident was caused by a gas leak when a bulldozer broke the natural gas line of Gasco.
As a result of a heat source, most likely from a worker who lit a cigarette, fire broke out at the site.
A medical source, who declined to be named, said that 19 ambulances moved to the scene of the fire. Six injured workers were transferred to the burns department at Suez General Hospital, including one who suffered from suffocation.
Residents transferred three other workers to the hospital.
The dead were transferred to the morgue and a claim was filed on the incident.
Edited translation from Al-Masry Al-Youm