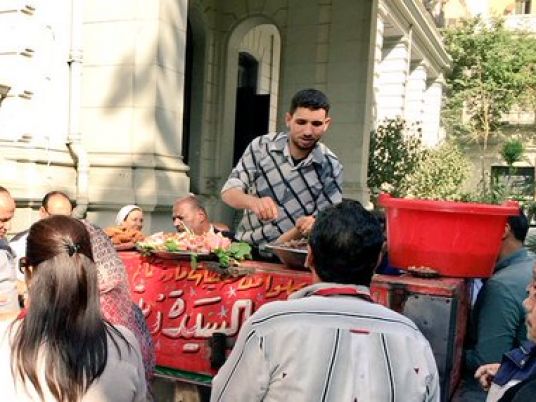 Lucky enough to be stationed on the employees' path to the UK embassy in Cairo, Hani, a ful (simmered beans) seller, became the first caterer of the famous Egyptian breakfast meal to enter the embassy with his cart.
"I invited my embassy workmates for breakfast yesterday. We brought in the best ful cart in al-Sayyeda Zeinab," ambassador John Casson wrote in Arabic on his Twitter account on Friday.
"I had agreed to an offer made by one of the embassy's secretaries to come into the embassy last Thursday and prepare breakfast for the ambassador and employees," Hani told Al-Masry Al-Youm.
"I was first stopped by some police officers deployed outside the embassy. The officer was unconvinced when I told him the reason for my visit. He made a call to the embassy's internal security before verifying my ID and searching the cart," Hani added, noting that the search procedures lasted for two hours.
"They were very happy and posed for photos with the cart…I felt I was not serving foreigners, but Egyptians with just a different language," said Hani.
Edited translation from Al-Masry Al-Youm