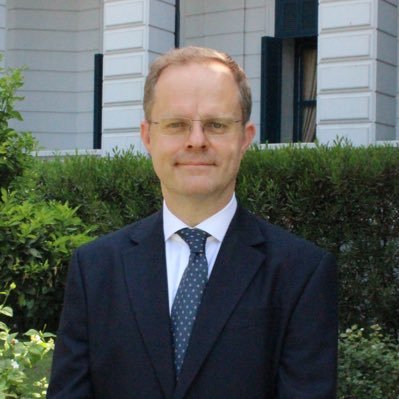 The new British ambassador to Cairo, Gareth Bayley, officially started his term at the beginning of this month.
Bayley succeeds Ambassador Sir Geoffrey Adams, whose tenure witnessed a remarkable improvement in British-Egyptian relations following a stark decline with former Ambassador John Casson.
The founder and director of the British-Egyptian group (which includes 61 Lords and Commons members) Samir Takla said he believes this new ambassador will be on the same level as Sir Adams.
Bayley has worked in Egypt with Adams for 20 years, is fluent in Arabic and has visited Egypt several times as a tourist in recent years.
He added that Bayley has a work history in Afghanistan, Pakistan, Jerusalem, Baghdad and New York.
Takla said that Adams had arrived in Egypt to handle British tourists being unable to travel to Sharm el-Sheikh, and he made commendable efforts until the problem was resolved.
He expressed hopes that Bayley's arrival in Cairo harkens the removal of Egypt from the red list of countries so that British tourists would return to visit Egypt.