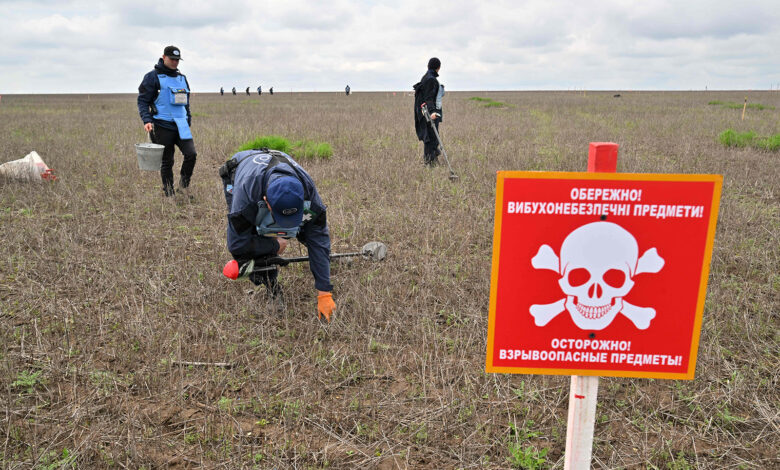 Ukrainian farmers trying to sow crops this season have faced "more difficult conditions than in 2022," according to a policy official.
Denys Marchuk, deputy chairman of the Ukrainian Agrarian Council Public Union, laid out the numerous challenges facing the country's crop sowing campaign — which launched late last month — in a news conference in Kyiv on Thursday.
Short on money: Marchuk highlighted a lack of funding as a key reason why farmers are struggling to produce. Farmers have run out of supplies like mineral fertilizers, plant protection products and seed, and did not receive additional funding for 2023.
Russia left large areas unusable: Some 7 million hectares (more than 27,000 square miles) of farmland in Ukraine can't be used during the sowing campaign, according to the Ministry of Agrarian Policy.
Apart from Russian-occupied territories, which are temporarily off the table, there are still mines that have not been removed across a lot of liberated land in Ukraine.
As CNN has previously reported, the country's farmers face a stark choice: clear the fields of explosives to prepare for planting season or contemplate another year without income.
Making the most of available land: Despite all the challenges, Ukraine plans to sow crops on more than 19 million hectares of land (more than 73,000 square miles), according to the agrarian ministry.
"This will actually give fairly good harvest rates, given the wartime conditions. In terms of harvest figures, we should be able to fully ensure food security within the country and be able to export," Marchuk said Thursday.
Why a successful season is so important: Ukraine is regarded as a key breadbasket for much of the world, and the country relies on agriculture to generate more than 40% of total export revenues.
The country's economy shrank by more than 30% in 2022 after Russia's invasion destroyed infrastructure, hurt businesses and disrupted daily life, Kyiv's Economic Ministry said in March.
The deputy chairman said farmers sold the grain group "mostly either at a loss or at their cost price," saying this was a reason for the lack of free funds that could be used during this sowing campaign.
"Overall, the costs of the sowing campaign this season will increase by about 19%. In total, about UAH 230 billion ($6 billion) will be spent on the sowing campaign," Marchuk said.