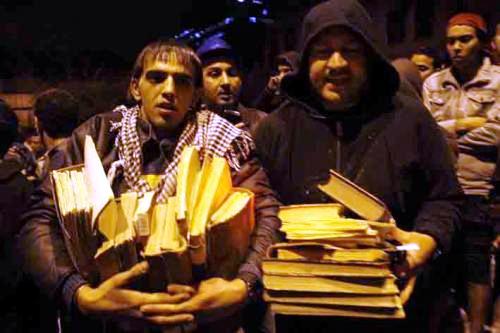 State security prosecution presided over by Wagdy Abdel Moneim, the judge of the case of the cabinet clashes, decided Wednesday to release Mahmoud Omran, a member of the Zamalek Club's White Knights.
Omran, who is known as "Shika," was accused of burning down the Institut d'Egypte.
Prosecution also accused him of assaulting security forces and damaging public and private properties.
Ahmed Heshmat, a defense team member and lawyer with the Hisham Mubarak Law Center, said no clear reason for arresting the suspect existed and there was an absence of evidence against him.
Shika is supposed to be released on Wednesday evening or Thursday after finishing procedures at the Abdeen police station and security department, Heshmat added.
On 16 December, military forces violently dispersed a weeks-long sit-in outside the cabinet protesting the appointment of Kamal al-Ganzouri as prime minister by the Supreme Council of the Armed Forces. Ganzouri was prime minister during the Mubarak era.
Protesters were also demanding that the SCAF immediately transfer power to a civilian body. At least 17 people were killed by the military during the clashes.
Ahmed Ragheb, a lawyer defending Omran, told Al-Masry Al-Youm on Saturday that he called on the judge to investigate the torture of his client at Abdeen police station and summon the police officers who arrested and interrogated him.
Translated from Al-Masry Al-Youm