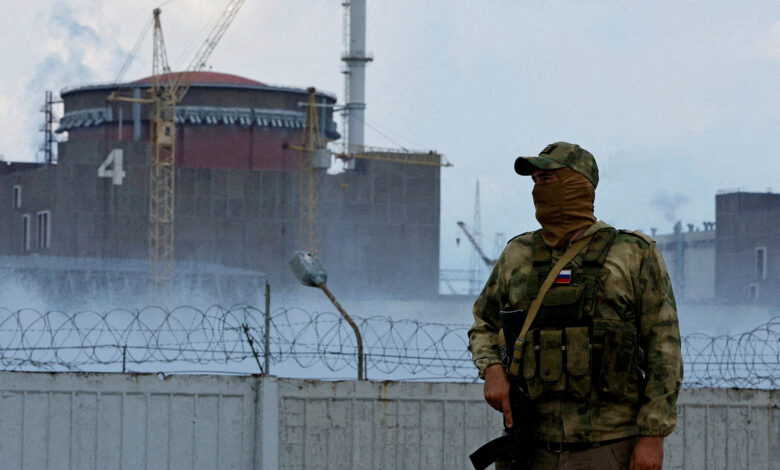 The head of the United Nations's nuclear watchdog is set to arrive in Kyiv Thursday to discuss creating a protection zone around the Zaporizhzhia nuclear power plant, after Russian President Vladimir Putin declared the facility a federal asset.
Rafael Mariano Grossi, the Director General of the International Atomic Energy Agency (IAEA), will hold "talks aimed at agreeing and implementing a nuclear safety and security protection zone around the ZNPP (Zaporizhzhia Nuclear Power Plant) as soon as possible," according to an IAEA press release. Grossi will also visit Russia, it added.
"The need for a Nuclear Safety and Security Protection Zone (NSSPZ) around ‪#Zaporizhzhya Nuclear Power Plant is now more urgent than ever," he tweeted Wednesday alongside photos from his journey to the Ukrainian capital.
Separately, there are plans to restart one of the six reactors at the Zaporizhzhia plant, which "are currently cold in shutdown," according to the IAEA news release.
Senior Ukrainian operating staff told IAEA experts at the complex that arrangements are underway to start the reactor at a lower level of power to create steam and heat necessary for the plant.
"It will take some time to complete all preparations, including those related to necessary systems and equipment, before reactor operations can resume," the press release said.
Some background: Grossi's trip to Kyiv comes amid heated confrontation over the status of the plant, after Putin signed a decree on Wednesday that puts Zaporizhzhia nuclear power under Russian state control.
Just as Putin was signing the decree, the Ukrainian state nuclear operator, Energoatom, said its president would assume the duties of the plant's director general — which has led the International Atomic Energy Agency (IAEA) to intervene.
The plant in the southeastern Ukrainian region is the largest in Europe and has been held by Russian forces for more than seven months, but is operated by its Ukrainian staff.
The Kremlin's annexation of Zaporizhzhia and three other Ukrainian regions has been widely condemned by the international community as "a sham" and is illegal under international law.
Moscow does not have full control of the land it claims to have annexed, holding just under three-quarters of Zaporizhzhia.