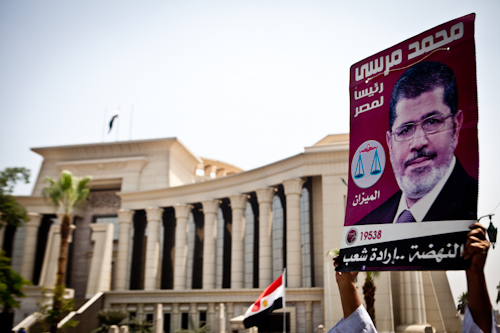 Egypt's Islamist President Mohamed Morsy opened his first public address after his inauguration on Saturday with the words "God is greatest, above everyone" and pledged that Egypt would not reverse its new democratic course after Hosni Mubarak's fall.
"Egypt will not go backwards," he told an audience at Cairo University. The speech was carried live on state television nearly two hours after he swore in before the Supreme Constitutional Court.
At Cairo University, he was given an official welcome by an army band that played the national anthem as he stood to attention.
Amid tight security by the military police, Field Marshal Hussein Tantawi, head of the Supreme Council of the Armed Forces, arrived as dozens of hostile university students in front of the university campus chanted, "people demand the execution of the field marshal."
Journalist Wael Kandil, media spokesman of the Constitution Party, who was present inside Cairo University Grand Hall, tweeted that members of the SCAF "had entered the Grand Hall at Cairo University, so we, a small group, chanted, 'down with military rule.' Members of dissolved parliament replied to us 'one hand."
But later, some attendees inside the university's main hall chanted "The army and the people are one hand."
Representatives from foreign embassies and political parties, a number of former MPs and public figures along with businessmen affiliated with Munarak's now-dissolved National Democratic Party (NDP) attended.
In his speech, Morsy praised what he described as "free and fair" elections to parliament, whose lower house was dissolved by a court order two weeks ago. He also praised the armed forces, which have been criticized by Islamists for their handling of the political transition.
He also announced his support for the Palestinians until they "regain all their rights" and called for an end to bloodshed in Syria.
"I announce from here that Egypt, its people and presidential institution stand with the Palestinian people until they regain all their rights," said Morsy.
"We support the Syrian people. We want the bloodshed to stop," he added.
The Islamist, who resigned from the Muslim Brotherhood after winning the election this month, had spoken out forcefully in support of Palestinians during his campaign.
The Brotherhood is vehemently opposed to Syrian President Bashar al-Asaad and supports the uprising against him.
He also said that his administration will continue to honor its international treaties — a thinly veiled reference to the Egyptian-Israeli peace treaty.
Relations between the two neighbors have become particularly tense since last year's overthrow of Morsy's predecessor, Mubarak, who had forged close ties with the Jewish state during his 29-year rule.
The rise to power of Egyptian Islamists has been a source of alarm among many Israelis.