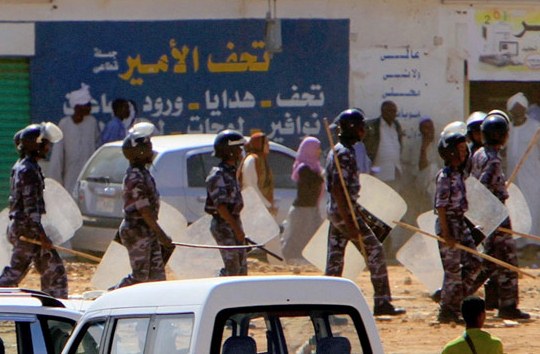 An Egyptian journalist who was arrested in Khartoum on Thursday while covering anti-government protests has been released, but has been placed under house arrest until the Sudanese authorities decide if she will be deported, her sister said.
Salma El-Wardany, a 25-year-old reporter with Bloomberg news agency who also writes for Egyptian news website Ahram Online and other publications, was detained outside Khartoum University together with Sudanese activist and blogger Maha El-Senosy.
Wardany's sister, Lina El-Wardany, and a Bloomberg colleague both confirmed on Twitter Thursday evening that she had been released. Senosy was freed a few hours before Wardany.
At 12:04 pm, Senosy wrote on Twitter, "Speeches ongoing in campus right now, heavy security presence." At 12:11 pm she tweeted that she had been stopped by National Intelligence and Security Service in front of the university.
Senosy is a member of the Girifna ("We've had enough") movement, which on its website describes itself as a "non-violent resistance movement" that "rejects living conditions under the [ruling] National Congress Party and the stagnation of Sudanese political life."
Girifna has been involved in the protests that broke out five days ago against government austerity measures and rocketing inflation. Khartoum University has been at the heart of the protests. On Saturday, Girifna reported that a march set out from Khartoum University's female dorms against the increase in the price of meals and transportation. Male students joined the protest when it reached the men's dorms.
Security bodies in Omar al-Bashir's authoritarian state have responded with violence to the protests, using tear gas inside dorms and detaining protesters.
Wardany has been reporting on the uprising since it began.
In a report published by IRIN, a news portal of the UN Office for the Coordination of Humanitarian Affairs, reported that police arrested 79 people on 18 June during protests as well as 40 members of opposition groups during a meeting of the Haq movement in Khartoum. Twenty-five students were arrested the next day.
According to Lina El-Wardany, the journalist was being held by the NISS. Wardany reported yesterday that a British Agence France-Presse correspondent, Simon Martelli, was held and interrogated for 12 hours by NISS.
Earlier, Egyptian lawyer Gamal Eid reported that Sudanese officials confirmed Wardany's detention and that in their opinion "pressure will lead either to her release or deportation from Sudan" — a decision that will be made by intelligence services, Eid said on Twitter.
Egyptian human rights organizations and Wardany's friends and colleagues began calling for her release when the news broke, with the Egyptian Organization for Human Rights calling on Egypt's military rulers to intervene immediately.