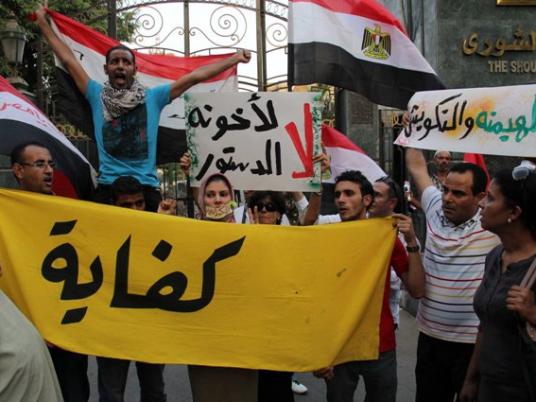 Presidency spokesman Yasser Ali said that President Mohamed Morsy discussed the importance of writing a constitution that reflects the revolution with former presidential candidate Amr Moussa during a meeting Saturday
During the meeting, Moussa also expressed his opinions on certain articles in the draft constitution.
At press time, Morsy was in a meeting with Popular Current founder Hamdeen Sabbahi.
Morsy had scheduled meetings for Saturday and Sunday with a number of former presidential candidates and civil society figures in an attempt to reach a consensus on the Constituent Assembly's current formation.
Ali told Al-Masry Al-Youm that the meetings are part of a broader consultation to resolve various controversaries with the recently released draft constitution.
The first draft of Egypt's post-25 January revolution constitution was released last month and immediately drew criticism from civil society groups and political parties, many of whom demanded the reformation of the Islamist-dominated assembly with a more diverse membership.
Morsy was scheduled to meet Saturday with Popular Current founder Hamdeen Sabbahi, Strong Egypt Party founder Abdel Moneim Abouel Fotouh, as well as Moussa.
Constitution Party founder Mohamed ElBaradei, who is currently in Brazil, was also invited to the talks. Morsy will hold a separate meeting with him, Sabbahi, Moussa and Abouel Fotouh together after ElBaradei's return.
Sources close to Hamdeen Sabahi said that he will bring up four key issues with Morsy, including the new constitution, the law governing People's Assembly's elections, social justice and retribution for those killed during the 25 January revolution.
Mohamed Osman, political communication advisor with the Strong Egypt Party, said that Morsy will initially meet separately with the former candidates to discuss the Constituent Assembly's possible reformation with different members.
Meetings will start successively on Saturday afternoon.
Edited translation from al-Masry al-Youm