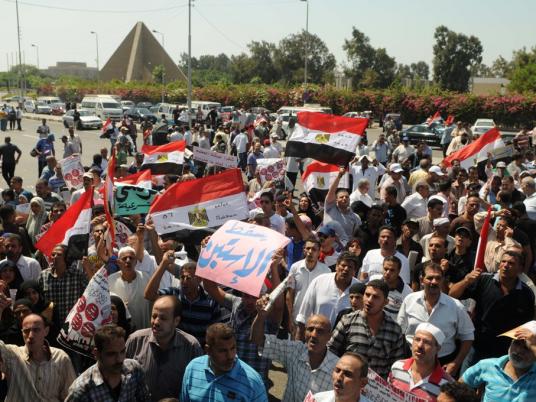 Dozens of protesters took to the Autostrad in Nasr City early on Friday afternoon, joining the "Last Chance" protest against President Mohamed Morsy and his administration.
In the late afternoon, protesters on Nasr Street distributed petitions to authorize Defense Minister Abdel Fattah al-Sisi to oust Morsy and assume power of the country. They said the petitions would be notarized.
The demonstrators aised Egyptian flags and photographs of Sisi and late President Mohamed Anwar al-Sadat. They chanted, "Down with the supreme guide rule," and "The people want the army again."
Earlier in the day, traffic was blocked in lanes leading to Nasr City. Protesters set up a stage next to the Tomb of the Unknown Soldier. Some distributed a pamphlet titled, "Power transfer to the Supreme Constitutional Court president."
More than 30 political parties and groups had called for today's protest, which demands military intervention against the "brotherhoodization" of the state and to stop what they allege are "Islamist militias" that intimidate the people.
Military veterans, members of the Independence Coalition, the Maspero Youth Union, the Silent Majority movement and the Egypt Above All coalition were in attendance.
Controversial talk show host Tawfiq Okasha, former Supreme Constitutional Court Vice-President Tahani al-Gebali and writer Mostafa Bakry also said they would take part.
Protester Ahmed Abdel Ghany called on all citizens to join the protest and call for military support against the Brotherhood. He said the demonstrators would set up a tent in front of the tomb and block the road toward Raba'a al-Adaweya Mosque once more protesters joined the sit-in. He added that the sit-in would begin after the names of those responsible for killing Egyptian soldiers in Rafah last August were announced.
The Revolutionary Forces Coalition, the Second Revolution of Anger movement, the Maspero Youth Union and the popular movement for the independence of Al-Azhar also called on the people to unite to achieve the demands of the revolution, and fight against the Brotherhood's attempts to take charge of security with Islamist militias.
They said they would stage a march on Friday from Talaat Harb Square in downtown Cairo to the High Court, and then return to Talaat Harb. The protesters would call for the dismissal of Prosecutor General Talaat Abdallah, for putting Interior Minister Mohamed Ibrahim on trial, the immediate release of all political detainees, and intervention from the Foreign Ministry to secure the release of all Egyptians detained in Libya.
In a press release issued by the protesters on Wednesday, the revolutionary forces accused the Brotherhood of seeking to oppress the populace through its militias, which were prepared to take the place of the Interior Ministry. They claimed the Brotherhood didn't believe in the state, the rule of law or patriotism, and didn't respect the revolution or the needs of the country, but were only seeking to protect their own interests.
Edited translation from Al-Masry Al-Youm