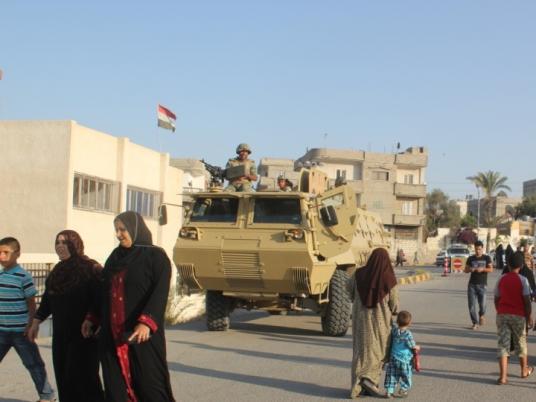 Interior Minister Ahmed Gamal Eddin dismissed the head of the security directorate in North Sinai, Major General Ahmed Bakr,* on Sunday and replaced him with his deputy Samih Ahmed Bashady, one day after three policemen were shot dead by unknown armed men in Arish.
Gamal Eddin visited the site of the shootings on Sunday, and Spokesperson for the Armed Forces Ahmed Mohamed Ali said Defense Minister Abdel Fattah al-Sisi arrived in Sinai on a surprise visit the same day to check security there firsthand and discuss recent developments with the governor.
Both the defense and interior ministers also held a meeting Sunday in North Sinai to discuss the security situation.
Three policemen were killed and a fourth injured in an armed attack on a police car in Arish on Saturday. Security sources said unknown armed men attacked the car and shot fire at the passengers inside before fleeing. The reason for the attack was not clear.
Policeman had protested that they were not properly equipped, blocking the road between Arish and Rafah, Reuters reported.
Unknown armed men also attacked a police station in Nakhl City on Friday to free an imprisoned relative.
Edited translation from Al-Masry Al-Youm
*Correction: An earlier version of this article listed Bakr's position as governor of North Sinai.