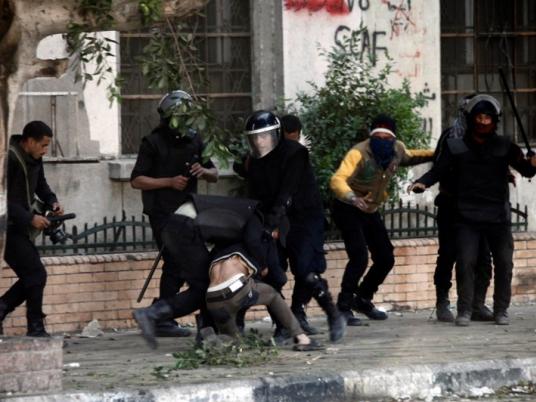 Clashes between protesters and security forces broke out in Simon Bolivar Square Wednesday evening, after a short pause in the clashes that have taken place between the two sides on nearby Qasr al-Aini Street.
Demonstrators gathered near Omar Makram Mosque and continued throwing stones and Molotov cocktails at security forces, who responded by throwing stones and firing tear gas at the protesters, in attempt to force them back to Tahrir Square.
Security authorities also arrested seven people during the clashes.
Protesters also gathered Wednesday evening outside the Giza municipality headquarters on Haram Street, demonstrating against President Mohamed Morsy and the Muslim Brotherhood. They blocked the street and lit up tires to disrupt traffic. Police cordoned off the building and the nearby police station, Al-Masry Al-Youm reported.
At least 53 people have died nationwide in the most recent outbreak of violence, which started amid demonstrations for the 25 January revolution second anniversary.
Edited translation from MENA