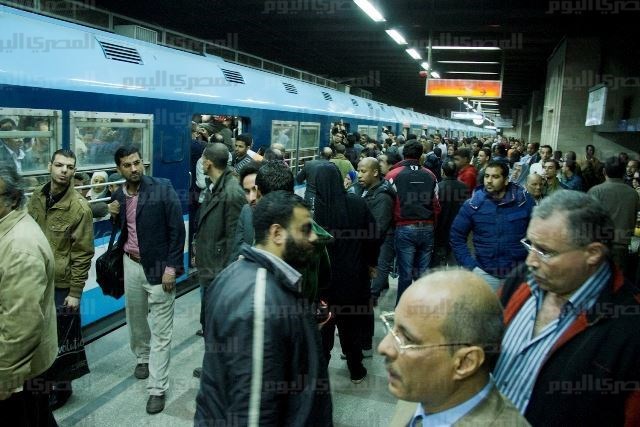 The Sadat metro station, situated in central Cairo's Tahrir Square, was reopened on Thursday afternoon after a brief closure for security reasons ahead of the June 30 national holiday celebrations.
The Egyptian Company for Metro Management and Operation closed the station for several hours on Thursday morning, as officials across the city lay on events marking the third anniversary of the so-called "June 30 Revolution" that saw former president Mohamed Morsi removed from office after large-scale street protests.
Official celebratory events, including music performances, have been laid on across Giza and Cairo, with large gatherings expected in designated public squares. To mark the start of the national holiday, military jets and helicopters flew in formation low over the capital on Thursday morning.
The celebrations mark not only the ousting of Morsi, but also the end of government dominated by the Muslim Brotherhood, and the start of new period of military backed rule that saw former head of military intelligence Abdel Fattah al-Sisi elected president.
Metro stations have been cause for concern since the uprising of January 25, 2011, when large numbers of people gathered quickly for anti-government protests that resulted in the ousting of former president Hosni Mubarak.
At times of political tension since then, metro stations in key locations have been closed temporarily to stop the movement of potential protesters and contain any possible unrest.
Sadat metro station was closed on January 25, 2016, the fifth anniversary of the 2011 uprising, as well as on the June 30 anniversary last year.
The same station was also closed for almost two years following the dispersal of Morsi supporters at the 2013 Rabaa al-Adaweya and al-Nahda sit-ins, which resulted deaths on a large scale.