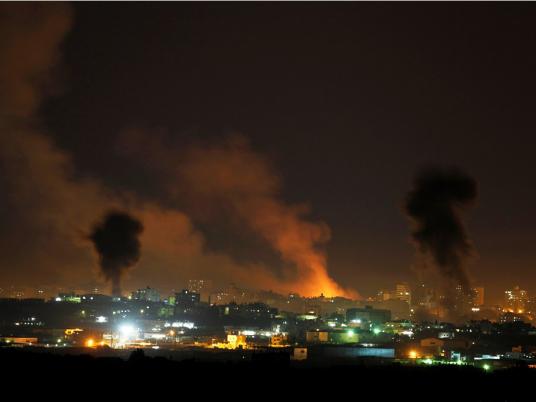 The Palestinian death toll rose to 16 Thursday evening in a military showdown lurching closer to all-out war and an invasion of the enclave. AFP reported on Thursday evening that the latest casualty was a 10-month old girl in Zeitoun, a district east of Gaza City.
Meanwhile, Egypt closed the Rafah crossing after a number of explosions close to the border.
On the second day of an assault Israel said might last many days and culminate in a ground attack, its warplanes bombed targets in and around Gaza city, where tall buildings trembled.
Plumes of smoke and dust furled into a sky laced with the vapor trails of outgoing rockets.
Hamas-radio station Al-Aqsa Voice said on Thursday, "Israeli warships stationed near the shores of ​​Gaza bombed the fuel tank of the house of Gaza Prime Minister Ismail Haniyeh, which is located in at a refugee camp on the Gaza shores."
Netanyahu, whom opinion polls favor for victory in a 22 January general election, had said on Wednesday the Gaza operation could be stepped up.
His cabinet has granted authorization for the mobilization of military reserves if required to press the offensive, dubbed "Pillar of Defense" in English and "Pillar of Cloud" in Hebrew after the Israelites' divine sign of deliverance in Exodus.
"We are in the process of expanding the campaign," Brigadier General Yoav Mordechai told Channel 2 television Thursday evening as Israel pressed a massive air campaign against Gaza militants. He revealed that on the army's request the defense minister approved the recruitment of another 30,000 soldiers.
"We will determine how many of them will be called in," he said. "All options are on the table."
The assault came after a week of surging cross-border violence and defied hopes that Egypt had brokered a truce.
Within hours of a missile destroying Jabari's car, militants fired a slew of rockets against the Jewish state's desert south.
Israel's military reported that its Iron Dome interceptor had shot down more than 30 of the missiles.
Israel said it had destroyed much of Gaza's longer-range rocket stockpiles, an assertion seemingly confirmed when Hamas claims of hits on ambitious targets like Tel Aviv, Israeli naval craft and secret intelligence bases proved unfounded.
Hamas fired dozens of rockets into southern Israel on Thursday morning, killing three people, and Israel launched numerous air strikes across the Gaza Strip, threatening a wider offensive to halt repeated Palestinian salvoes.
Israeli police said the three died when a Palestinian rocket hit a four-story building in the town of Kiryat Malachi, some 25 km north of Gaza. They were the first Israeli fatalities of the latest conflict to hit the coastal region, Reuters reported.
Israel on Wednesday assassinated Hamas's military mastermind and shelled the enclave from the land, sea and air, killing 13 people, including five militants, three children and a pregnant woman. More than 100 were wounded.
Expecting days or more of fighting, Israel warned Hamas that all its men were in its sights and dropped leaflets in Gaza telling residents to keep their distance from militants and Hamas facilities.
"The leaflets stress that Hamas is dragging the region toward violence, and that the IDF is prepared to defend the residents of the State of Israel until quiet is restored to the region," the military said in a statement.
A rocket fired from the Gaza Strip struck Rishon LeTzion, some 15 kilometres (nine miles) southeast of Tel Aviv, the Israeli army said on Thursday, but there were no injuries or damage. "There was a rocket that hit in an open field in the Rishon LeTzion area. There were no injuries or damage," a spokesman said. The city, Israel's fourth largest with a population of some 228,000, lies about 50 km north of the Gaza Strip.
One rocket also fell near Tel Aviv according to Reuters, reporting that there are no casualties and Islamic Jihad has claimed responsibility.
Izz ad-Din al-Qassam Brigades, Hamas' armed wing, officially announced on Thursday evening it successfully targeted with a surface-to air missile an Israeli warplane that was raiding east of Gaza.