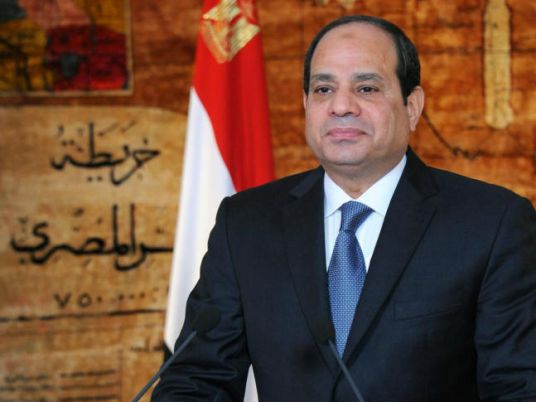 President Abdel Fattah al-Sisi paid tribute to protesters who were killed during the 2011 uprising against former president Hosni Mubarak on Sunday, suggesting that the Muslim Brotherhood deviated from the revolution's path.
"Today, we celebrate the memory of the Egyptian people's revolution for which some of the best of the nation's youth sacrificed their lives to pump fresh blood into Egypt," Sisi said in a TV address marking the uprising's fifth anniversary, which is to take place on Monday.
"The deviation of the revolution was not the making of its loyal sons, but rather the pure outcome of those who wanted to claim credit for it and use the impetus for personal gain," Sisi said, in a possible reference to the Muslim Brotherhood which he ousted from government in 2013 following protests against its rule.
"The people who revolted for their freedom and dignity corrected the path, hence June 30," Sisi said, referring to anti-Brotherhood protests in 2013 which prompted him to overthrow former president Mohamed Morsi.
Sisi's address comes as security authorities are on alert, anticipating possible protests against his government. The protests have been primarily advocated by the Brotherhood who claim that Sisi's ascension to presidency was a military coup, as opposed to his supporters' view that his rise to power was the result of a popular uprising. The president and allied media have both warned against violent protests during the anniversary.
Securityforces have recently escalated efforts in arresting protest advocates.
"A fair, objective assessment of what Egypt has achieved in less than two years can reveal that our country has turned from a homeland of a certain group to a homeland for all," Sisi said in his address. "It is a shift from a government that antagonizes the people and all state sectors to another that respects popular will and aspirations," he added. "Together, we are establishing a modern, civilian, developed state that upholds democracy and freedom."
Sisi's government has, however, been under fire by rights advocates for allegedly forcing the disappearance of political activists and toughening restrictions on journalists.
Edited translation from Al-Masry Al-Youm