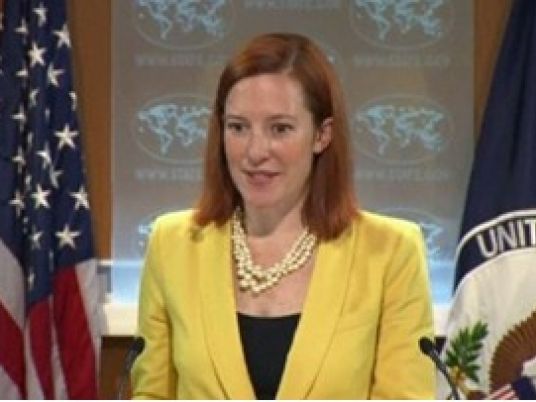 The US State Department is following the trials of Muslim Brotherhood Guidance Bureau leaders, according to remarks made by spokesperson Jen Psaki in Wednesday's daily press briefing.
"Certainly, we follow it very closely," she said in response to a press inquiry on the matter.
Psaki expressed a tempered support for recent developments in Egypt's legal climate.
"I know there have been a range of reports about Badie as well as others, including sentence reductions, et cetera. While we welcome the sentence reductions and release of some pro-Muslim Brotherhood female demonstrators, concerns remain about the overall climate leading to arrests and detentions in Egypt," she said.
Psaki re-affirmed American commitment to a just legal system.
"We continue to look to the Government of Egypt to ensure the Egyptians are afforded due process with fair and transparent trials, and continue to convey our belief that civilians should be sent to civilian courts. We have consistently called for an end to politicized arrests and detentions, and we will continue to do so."
When asked how this call is heard, Psaki said it is communicated on the ground, meaning through the Embassy, and publicly.