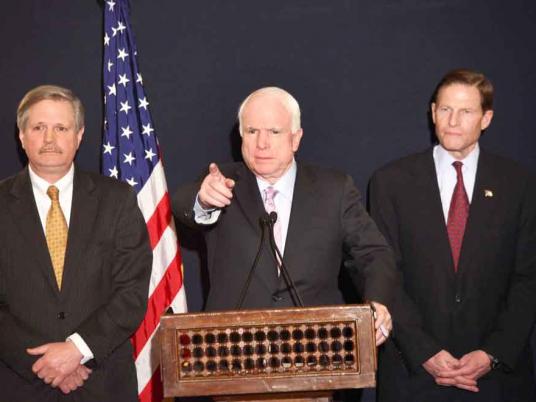 Unrest in Egypt could turn into "all-out bloodshed" in coming days if efforts to find a political solution fail, U.S. Senator John McCain warned on Tuesday during a visit to Cairo.
"Oh my God, I didn't know it was this bad. These folks are just days or weeks away from all-out bloodshed," McCain said during an interview in Cairo with "CBS Evening News with Scott Pelley."
McCain and fellow Republican Senator Lindsey Graham met with Egypt's new rulers as reports said the country's military-installed government could soon announce that foreign efforts to mediate a peaceful end to the country's political crisis were collapsing.
An Egyptian army takeover of the country on July 3 has led to violent confrontations between military forces and backers of overthrown President Mohamed Morsy.
During the CBS News interview, McCain, who unsuccessfully ran for U.S. president in 2008, said: "There is only one way to bring about a peaceful Egypt and that is the process of negotiation and reconciliation between the major players."
Nonetheless, he and Graham both acknowledged the difficulties ahead for Egypt.
Asked by CBS News if they thought Egypt "might fail," McCain responded, "I think it might. I wouldn't be here if I didn't think that it might and I think the events in next few weeks will determine that."
Graham added: "I'll go one step further. I think it's going to fail if something doesn't change. And to the American people, failure in Egypt matters to us."
Neither senator defined what it would mean to have Egypt "fail."
Travelling in Egypt during a U.S. Congress recess, McCain and Graham met with Egyptian army chief General Abdel Fattah al-Sisi, interim Vice President Mohamed ElBaradei and interim Prime Minister Hazem al-Beblawy.
Asked whether Sisi embraced the U.S. message of reconciliation, McCain told CBS News: "I got the impression about General Sisi that he is a very strong man and that he is trying to do what he thinks is best for the Egyptian people."