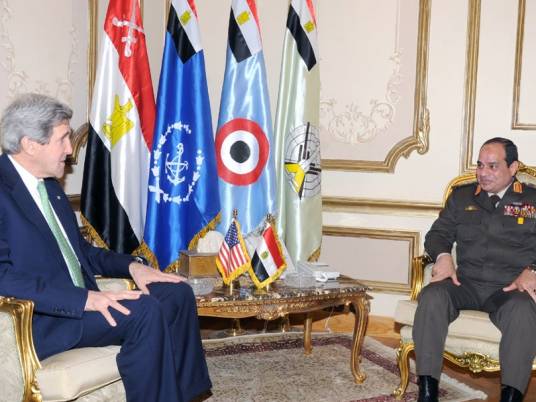 Egypt may have avoided a civil war this month, U.S. Secretary of State John Kerry said on Wednesday, saying this was one factor to weigh as Washington decides whether to cut off most U.S. aid to the Arab nation.
The armed forces deposed Egyptian President Mohamed Morsy on July 3 after huge street protests against his rule, clearing the way for this week's installment of a new interim cabinet charged with restoring civilian government and reviving the economy.
Thousands of Morsy's supporters demonstrated outside the prime minister's office and marched through Cairo on Wednesday to denounce the new military-backed administration and show that they had no intention of bowing to army dictates.
Under U.S. law, if the United States were to decide that Morsy was ousted in a military coup, or a coup in which the military played a decisive role, it would have to cut off most of the roughly $1.5 billion in annual U.S. aid to Egypt.
Kerry repeated the U.S. position that it has not yet made any decision, saying it would take its time, consult its lawyers and get all the facts.
"This is obviously an extremely complex and difficult situation," Kerry told reporters in Amman, adding that he would not "rush to judgment".
"I will say this: That what complicates it, obviously, is that you had an extraordinary situation in Egypt of life and death, of the potential of civil war and enormous violence, and you now have a constitutional process proceeding forward very rapidly," he added. "So we have to measure all of those facts against the law, and that's exactly what we will do."
The crisis in Egypt, which straddles the vital Suez Canal, has alarmed allies in the West. Washington would be forced to cut off aid to Cairo, including some $1.3 billion that goes to the military, if it determined Morsy had been removed by a coup.
His comments underscored grave U.S. concerns about the Arab world's most populous state and suggested that President Barack Obama was in no hurry to pull the plug on the aid program.
European Union foreign policy chief Catherine Ashton became the latest senior international figure to visit Egypt's interim rulers and, unlike a U.S. envoy who came two days ago, she also met senior figures in Morsy's Muslim Brotherhood.
However, Brotherhood leader Amr Darrag said the Europeans had not put forward any plan to resolve the crisis. On her last visit, in April, Ashton attempted to persuade Morsy to sign up to a power-sharing deal brokered by an EU envoy. The president did not respond.
Thousands of Brotherhood supporters are staging a vigil in a square in northeast Cairo, vowing not to move until the restoration of Morsy, Egypt's first freely elected president. He has been held at an undisclosed location since his downfall.
A prosecutor on Wednesday ordered the detention of 70 Morsy backers for 15 days pending investigations over clashes that killed seven people early Tuesday, state news agency MENA said.
They are accused, among other crimes, of rioting, blocking a Cairo road bridge and targeting policemen with firearms.
"PEACEFUL MARTYRDOM"
Wednesday's protests were mostly peaceful, although there were scuffles when a crowd marched through the city center and along the Nile riverbank, held back by riot police as they approached Tahrir Square, focus for anti-Morsy protests.
"We have only two goals, legitimacy or martyrdom," said Ahmed Ouda, 27. Another man interrupted to add: "Peaceful martyrdom!"
An interim cabinet of 33 ministers, mostly technocrats and liberals, was sworn in on Tuesday. Not one was drawn from the two main Islamist groups that together have won five elections since the 2011 uprising toppled autocrat Hosni Mubarak.
In another worrying sign for the new government's ability to build consensus, the slate was also denounced by the April 6 youth group, which led early street protests against Mubarak.
"The cabinet included a number of ministers who failed before when they were holding former official posts along with another number of ministers who belong to the regime of ousted president Mubarak," the April 6 group said in a statement.
Ashton met interim head of state Adly Mansour, Prime Minister Hazem el-Beblawy and other government figures, telling reporters afterwards it was up to Egypt to choose its own path but that it should seek to reconcile feuding factions.
"I underlined the importance of a very inclusive process because this country belongs to everyone and they must feel part of that process," she said, calling for the release of Morsy.
The new cabinet is charged with implementing an army-backed "road map" to restore civilian rule, which foresees parliamentary elections in as little as six months.
Its main task is salvaging an economy wrecked by two and a half years of turmoil. For that, it has been given a lifeline of $12 billion in aid from rich Gulf Arab states.
Many of the new cabinet ministers are supporters of deep economic reforms demanded by the International Monetary Fund in return for a stalled rescue loan, but investors are skeptical those reforms will be implemented soon.
Finance Minister Ahmed Galal said on Wednesday that an IMF loan was only "part of the solution" to the country's problems.
"We need time to read and study the issues and files on the ground to come up with sound and well thought-out decisions that will pave the way and build the future for governments to come," he said in a statement.
KIDNAPPED?
Morsy has not been seen in public since the army moved in and his supporters say he has been "kidnapped" – a charge denied by military spokesman Ahmed Mohamed Ali, who told Al Arabiya that the army had acted "for his protection".
Ali also accused the Brotherhood of "a campaign of incitement that attempts to depict political differences as religious differences". He said: "There is incitement to target military installations and headquarters, and this is something totally unacceptable in Egypt or in any country."
The running street battles in the early hours of Tuesday were the deadliest in a week. Before that, more than 90 people were killed in the first five days after Morsy's removal, more than half of them shot dead by troops outside a Cairo barracks.
In the lawless Sinai peninsula bordering Israel and the Palestinian Gaza Strip, a policeman was killed when gunmen opened fire on a police station in El-Arish city, security sources said.
Two security checkpoints in El-Arish airport were also attacked but there were no immediate reports of casualties.
At least 14 people, mainly security personnel, have been killed there since Islamist militants called for an uprising against Egypt's military after Morsy's exit.