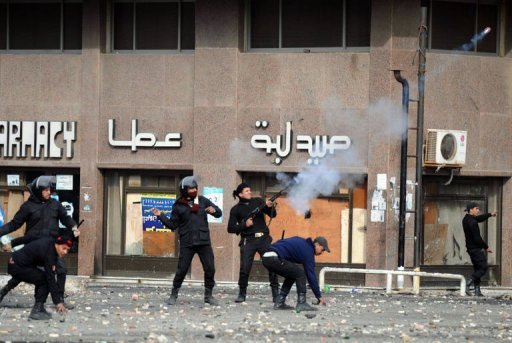 A shipment of teargas canisters from the United States arrived at the Abadeya Port in Suez on Sunday, according to official documents obtained by Al-Masry Al-Youm.
Five containers carrying 140,000 teargas canisters were shipped to the Interior Ministry by Aramex International, a courier service based in Alexandria.
The shipping documents stipulate that only the Egyptian government may use the canisters, and that they are forbidden to re-export the shipment or sell it to third parties.
The shipment sailed from the port of Wilmington, Pennsylvania on 14 March on board the SS Jamestown. A letter of credit was forwarded without specifying the name of the bank, and the Egyptian government paid the freight fees.
In February, Al-Masry Al-Youm reported that the Interior Ministry agreed to import the canisters for US$2.463 million (LE17.241 million), to be shipped by an Egyptian military cargo plane.
Interior Ministry spokesperson Hani Abdel Latif said that the ministry imported the grenades in order to protect state facilities.
Edited translation from Al-Masry Al-Youm