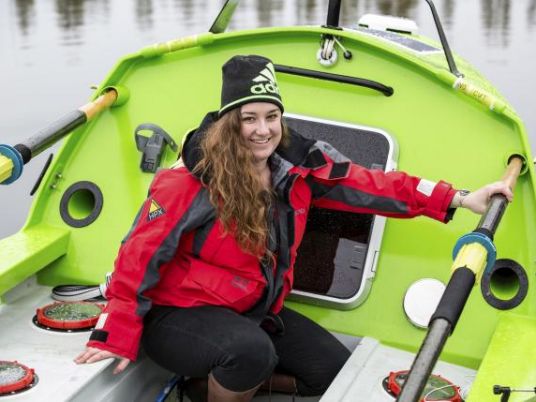 An American woman has ended her attempt to become the first female to cross the Pacific Ocean by herself in a rowboat after running into rough weather and a piece of steering equipment failed off the coast of Japan, her team said on Sunday.
Sonya Baumstein, 30, was rescued by the Japan Coast Guard a week after she began the four-to-six month odyssey to San Francisco, according to expeditionpacific.com, her support team's website.
During her first seven days on the water, Baumstein lost her drogue, a critical steering system device, and battled strong headwinds while dealing with the prospect of rough weather in the forecast, the journey's operations manager, Andrew Cull, said in a statement.
"Sonya and some team members felt that things weren't going right. While we couldn't put our finger on it, something felt wrong," he said.
Despite 16 attempted solo rows across the Pacific, no women and only two men have successfully completed the journey: Frenchmen Gerard d'Aboville in 1991 and Emmanuel Coindre in 2005, according to Ocean Rowing Society records.
Baumstein was traveling in a custom-made 7-meter, 300-kg boat without a motor or sail. Baumstein's boat had an electric water maker that desalinates seawater for drinking.
The only other woman to attempt to row from Japan to San Francisco was Briton Sarah Outen. But she was blown northward and after 149 days ended her 2013 journey in the Aleutian Islands.
Baumstein has not decided when or if she will attempt the trip again, Cull said.