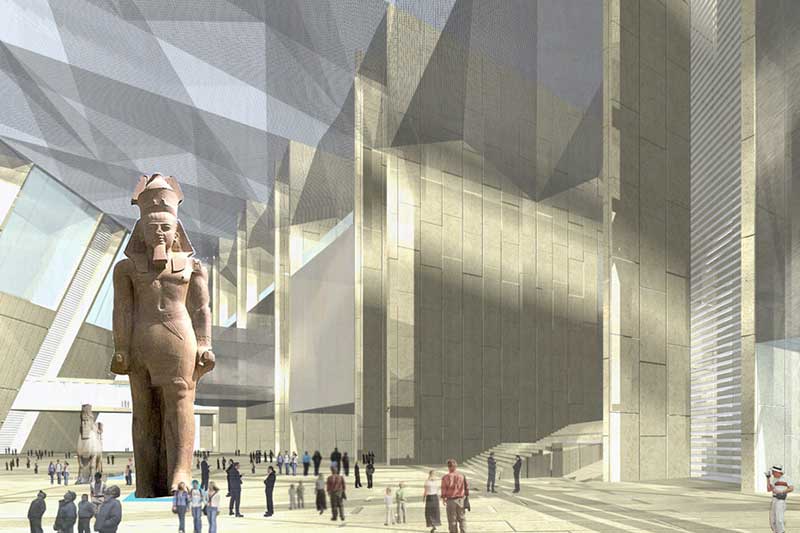 CNN International has released a documentary film on the Grand Egyptian Museum as part of a partnership with the Ministry of Tourism and Antiquities, represented by the Egyptian Tourism Promotion Authority.
Titled "Inside The Grand Egyptian Museum", the documentary was produced and filmed under a contract with the authority to promote Egypt's various tourist destinations and highlight its diversity, according to a Sunday statement by the Tourism and Antiquities Ministry.
The authority's head Ahmed Youssef said that the film highlights the museum's various features, beginning with an introduction on the significance of the museum's location overlooking the Pyramids of Giza and calling the museum a grand edifice to bring in waves of tourists.
Various live shots showcase the museum's workflow in light of the coronavirus precautionary protocols in place, and the latest developments in the museum's preparations for its opening in 2021 – in addition to shots of the exhibition halls, the grand staircase and the lobby where a sculpture of King Ramses II stands.
The documentary also presents interviews with various prominent figures such as the General Supervisor of the Grand Egyptian Museum project Atef Motah, renowned Egyptologist Zahi Hawass and Director General of the Grand Egyptian Museum for Archaeological Affairs Tayeb Abbas.
The film showcases some of the many treasures available at the museum such as the collection of King Tutankhamun, which is set to be transferred from its current location at the Egyptian Museum in Tahrir Square to be permanently displayed at the Grand Egyptian Museum.

The film will be broadcast more than once throughout this week at various times on the CNN network.
Youssef added that CNN is also airing another documentary called "A Tourist's Journey in Egypt".
Launched by the Egyptian Tourism Promotion Authority, the film's purpose is to reassure tourists of the preparations, precautions and health safety measures Egypt has undertaken to receive tourists once again, while also highlighting the diversity of sights and scenes Egypt has to offer them.
CNN promotes Egyptian tourism through its TV channels, websites, and social media platforms which have a wide reach in Latin America, Europe and Asia.