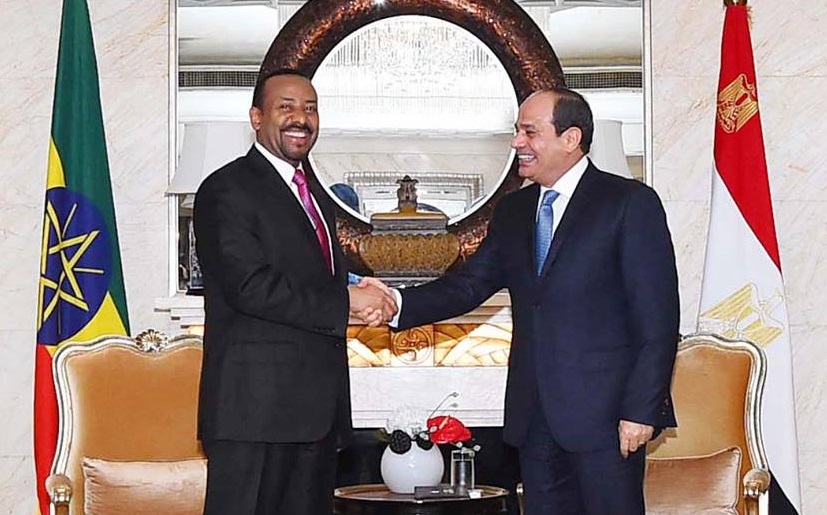 TEN channel aired footage of the moment Egyptian President Abdel Fattah al-Sisi received Ethiopian Prime Minister Abiy Ahmed who arrived in Sharm el-Sheikh to attend the UN Climate Summit (COP27).
The president welcomed Ahmed with a wide smile.
Sisi will have an intense agenda starting Monday at the COP27 as he inaugurates the summit, as well as delivers a speech in which he outlines the features of the roadmap towards a better future for all humanity.
A vital summit
The Climate Summit is scheduled to be held in Sharm el-Sheikh from November 6-18, with the participation of world leaders, and about 40,000 participants from 197 countries, to discuss the repercussions of climate change, and the role of each country to confront and address this problem.
Egyptian Foreign Minister Sameh Shoukry said that Egypt hosts more than 45,000 registered participants in COP27 representing parties, the United Nations, regional organizations, companies, the scientific community, indigenous and local communities and civil society to promote and accelerate the implementation and follow-up of climate action.
State leaders, activists and officials from around the world will participate in the climate conference, to provide solutions to help save the environment from the threat of climate change.
The COP27 Conference is a summit held annually and attended by 197 countries to discuss the factors that led to climate change, how to confront this problem and ways to treat it.
Stagnant dam talks
A binding legal agreement must be reached on the Grand Ethiopian Renaissance Dam (GERD), amid climate change and water security challenges, President Abdel Fattah al-Sisi said during his speech at the Arab Summit in Algeria on Wednesday.
Egypt's water resources have become unable to meet the needs of its population despite following a policy to rationalize consumption, through the frequent reuse of agricultural irrigation water that made the overall efficiency rate of its use in Egypt one of the highest rates in Africa.
The Ethiopian government announced on August 11 that it has completed the third GERD filling unilaterally.
Egypt and Sudan say they want a legally binding agreement on operating the dam, while Ethiopia says any pact should be advisory.