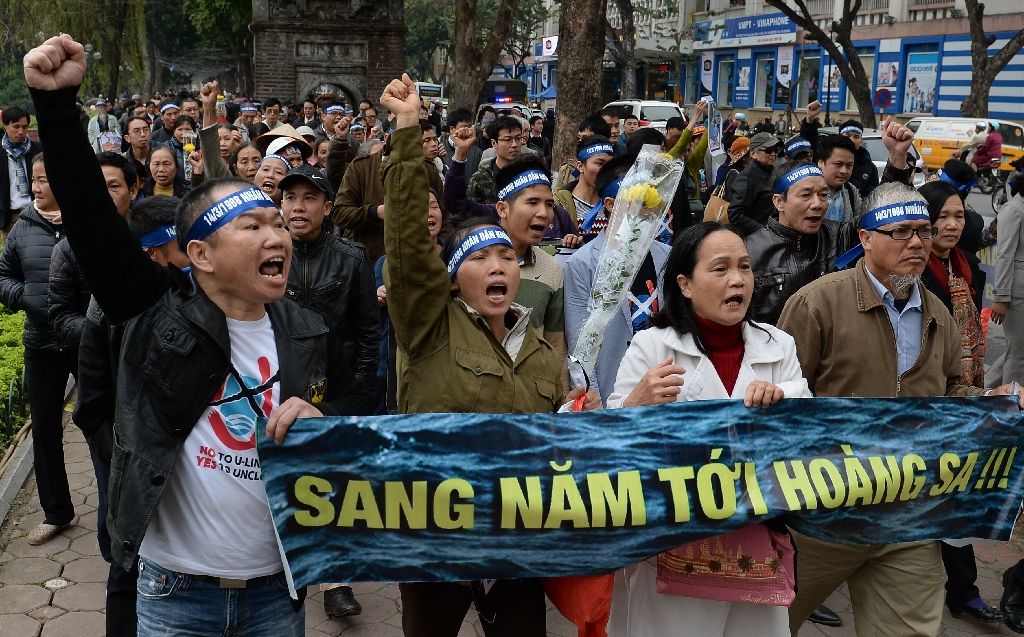 Vietnam is extending its runway on an island in the South China Sea also claimed by Beijing, according to fresh images likely to irk the regional superpower.
Hanoi has lengthened the runway on Spratly island from less than 2,500 feet (760 metres) to 3,300 feet, the US-based Asia Maritime Transparency Initiative said in a report, citing images from early November that appeared to be from a satellite.
Vietnam will likely extend the runway to 4,000 feet in total, added the monitor, a project of the Center for Strategic and International Studies in Washington.
Communist Vietnam is also building two large hangars capable of hosting its maritime surveillance aircraft and transport planes, AMTI reported.
Beijing claims most of the South China Sea. It has reclaimed reefs and built airstrips capable of hosting large military planes, sparking anger from competing claimants led by Vietnam and the Philippines.
Hanoi and Beijing have traded diplomatic barbs over disputed island chains and waters in the sea.
Tensions have eased slightly in recent months but the issue remains incendiary on both sides.
In 2014 China moved a controversial oil rig into contested territory, prompting riots in Vietnam though tensions have simmered in recent years.
"Even amid reduced diplomatic tensions, Vietnam continues to modernise its military and seek closer security ties with Japan, the United States and India in preparation for future Chinese assertiveness in disputed waters," AMTI said in its report published Tuesday.
Hanoi did not respond to a request for comment Friday, but Beijing issued a customary rebuke and asserted its claim over the disputed Spratly chain, which it calls the Nansha islands.
"We are firmly opposed to some relevant country's illegal occupation and construction work on some of the islands and reefs of China's Nansha islands," Chinese foreign ministry spokesman Geng Shuan said at a regular briefing.
The strategic waterway is also claimed by the Philippines, Brunei, Malaysia and Taiwan and is rich in energy reserves, fishery resources and is a busy shipping route.