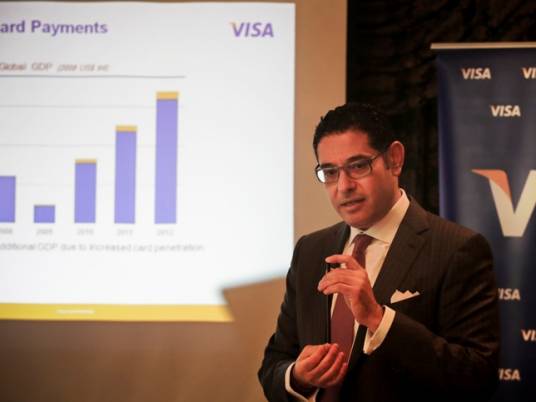 Electronic payments in Egypt are on an uptrend, and according to a recent study, this contributes directly to overall economic growth.
A global study conducted for Visa by Moody's Analytics found that the growth in the use of electronic payment products added $983 billion to the Gross Domestic Product (GDP) of 56 countries examined between 2008 and 2012.
Over the five years, the study found that GDP in those countries grew by an average of 1.8 percentage points.
In Egypt, a growth in card usage contributed $29.9 million to GDP, according to the Visa study.
"We can see from the data that the positive impact in economic growth is a direct result of card usage and is tied to the benefits electronic payments offer, including enhanced security, convenience of operating without cash or checks, increased efficiency at checkout and a reduction in the informal economy," says Tarek Elhousseiny, general manager for Visa North and Francophone Africa.
In emerging markets, card usage added 0.8 percent to GDP, compared to 0.3 percent in developed markets, he adds.
Since the majority of the population in Egypt is without bank accounts — only about 10 percent use the services of financial institutions — the uptake in electronic payment usage has potential for being higher and, in turn, contribute more vigorously to economic growth.
One of the many ways this trend can be driven is by promoting e-commerce as well as introducing different forms of mobile payments, both of which are the current focus of the banking sector in Egypt.
"The [overall] growth is coming from the issuance of new cards, whether debit, credit or pre-paid, and the increase in the percentage of payments that are done on those cards, whether new or existing, that contributes to the overall penetration of electronic payment. But the real quantum leaps will come from the two new payment patterns that are using e-commerce and mobile payments," he told Egypt Independent.
In the Middle East and North Africa region, the e-commerce industry was worth around $9 billion in 2012, and is set to reach $15 billion in the next two years.
Elhousseiny says that e-commerce grew by just under 20 percent in Egypt in the year to October 2012, and this double digit growth is expected to continue.
The long-anticipated launch of global e-commerce business Paypal in Egypt is just one of the ways this trend will grow further, allowing more and more payments and money transfers to be conducted online.
"The more stakeholders come into the game, it's another force to drive and expand penetration levels, width and breadth of activity, and attempts to migrate from cash to electronic," says Elhousseiny.
Going mobile
In 2012, official CAPMAS data showed that mobile penetration in Egypt reached almost 120 percent, while smartphones are steadily growing at around 20 percent and Internet penetration at an estimated 30 percent.
Like many global findings on developing markets, this suggests that many users will access the Internet for the first time through their mobile devices. In this context, the importance of also deploying payments and money transfers via mobile is self-evident.
According to Elhousseiny, the unbanked segment of the population can be described as "unbankable because they don't need a bank to do the very simple, low-end type of transactions and they will not establish a relationship with a bank on the basis that their average transaction is less than LE50."
Equipping this segment with a mobile device that can conduct monetary transactions is "going to bring them into the banking environment, and that's the financial inclusion we are talking about, by bringing the bank products to the consumers," he adds.
Once these payment forms achieve 20-30 penetration levels, a significant growth in e-payments will be realized and, in line with the study findings, will spur economic growth.
"Using a medium like mobile where penetration levels are broader geographically and broader in terms of segment, using that and attempting to migrate the cash habit to that device, then penetration levels would increase … to levels that are equal to other markets in the region where it is beyond 4 percent," he says.
Mobile payment has two dimensions: the first is by accessing online payments through smartphones, while the second is to use the mobile device itself to be able to pay via person-to-person transfer.
For example, Elhousseiny says, "You can pay a plumber by dialling his number and transferring the cost of the service using a mobile card account that resides on the mobile device."
Egypt's regulators have already defined the framework that will manage and monitor person-to-person mobile transfers, he adds. "There are a number of banks that have existing agreement with mobile operators, and they have a defined customer segment that they will launch products to," Elhousseiny says, all of which should be finalized in less than a year's time.
The most straightforward way to introduce these services to the wider population is to allow mobile payment for users to top up their pre-paid mobile phone lines.
"If a [payment] card account resides on a mobile, and all you have to do is use a card account on your SIM card info to top up your mobile. That would be the entry point, it doesn't have to be a smartphone," he says.
"You can have a card account on the SIM that is linked not necessarily to a bank account, but to a pre-paid card account. It has to have enough money for whatever you want to pay using your mobile. Users will need to register and establish a card account," he explains.
Another payment tool currently in the works is mobile point-of-sales machines, which are less costly than usual terminals, as well as being easier to deploy and replace. One segment that would quickly use the new M-POS, as it's called, is the home delivery services, where everything is currently cash-based, he says.
All in all, both the study and the recent market trends show that mobile and e-commerce are the future of payment. "This is where the biggest growth will happen," he adds.
Evidence of this is the government gradually embracing online payment for its own services.
"Now, you can renew your ID or passport online, but so far you can't pay for it online — you pay at the door in cash," but more government services are expected to go online, Elhousseiny says. Authorities have already set up a payment gateway that will streamline all payments to and from the government.
"The government itself is looking at electronic payments as a way to pay and be paid."