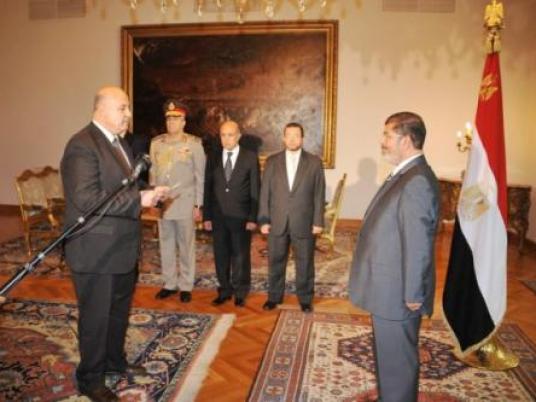 President Mohamed Morsy has promised not to actually use the expanded powers he granted himself in the constitutional declaration issued last month, his vice president has said.
"I assure you that President Morsy told me, 'I will not use this constitutional declaration,'" Vice President Mahmoud Mekky said in an interview published in state-owned Al-Ahram newspaper Wednesday.
Mekky also told Al-Ahram that he was in Pakistan when the declaration was announced, and only learned of it through media reports.
"Once I returned, I met with the president and was informed about the serious situation and information he had," Mekky added, saying the information the president had access to led him to issue the declaration.
Mekky was tight-lipped, however, about the specifics of that information, saying that only the president himself could explain the reasoning behind the declaration.
"The constitutional declaration has special circumstances. As a judge, I was concerned and I didn't hide this. However, I would like to announce that this declaration targets the independence of judiciary and attempts to keep it away from policy," he said.
Mekky also denied that his brother, Justice Minister Ahmed Mekky, helped write the declaration.
"I can confirm that the wording of this constitutional declaration could never be written by a judge," he claimed, adding, "Maybe it was written by a legal expert."
Mekky also responded to rumors he had tried to resign, saying, "This is untrue. I didn't submit my resignation. I completely retreated from the idea of submitting my resignation, which I was thinking about at the beginning of my work."
Mekky also criticized the Muslim Brotherhood, saying the group was mistaken in taking so many stances and issuing so many statements regarding the declaration that only added to the political tension. He also accused the media of exaggerating those mistakes.
Mekky also said he has not fulfilled his duties as vice president to sponsor national dialogues and bring about a consensus among political forces.