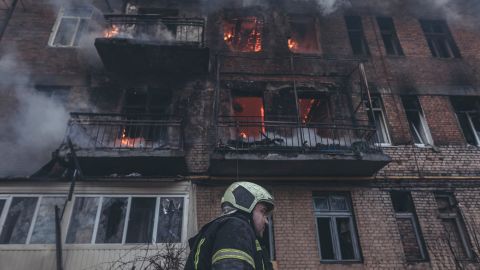 Wagner Group fighters have become the disposable infantry of the Russian offensive in eastern Ukraine, but a Ukrainian military intelligence document obtained by CNN sets out how effective they have been around the city of Bakhmut — and how difficult they are to fight against.
Wagner is a private military contractor run by oligarch Yevgeny Prigozhin, who has been highly visible on the front lines in recent weeks — and always quick to claim credit for Russian advances. Wagner fighters have been heavily involved in taking Soledar, a few miles northeast of Bakhmut, and areas around the town.
The Ukrainian report, dated December 2022, concludes that Wagner represents a unique threat at close quarters, even while suffering extraordinary casualties. "The deaths of thousands of Wagner soldiers do not matter to Russian society," the report asserts.
"Assault groups do not withdraw without a command… Unauthorized withdrawal of a team or without being wounded is punishable by execution on the spot."
Phone intercepts obtained by a Ukrainian intelligence source and shared with CNN also indicate a merciless attitude on the battlefield. In one, a soldier is heard talking about another who tried to surrender to the Ukrainians.
"The Wagnerians caught him and cut his f**king balls off," the soldier says.
CNN can't independently authenticate the call, which is alleged to have taken place in November.
Wounded Wagner fighters are often left on the battlefield for hours, according to the Ukrainian assessment. "Assault infantry is not allowed to carry the wounded off the battlefield on their own, as their main task is to continue the assault until the goal is achieved. If the assault fails, retreat is also allowed only at night."