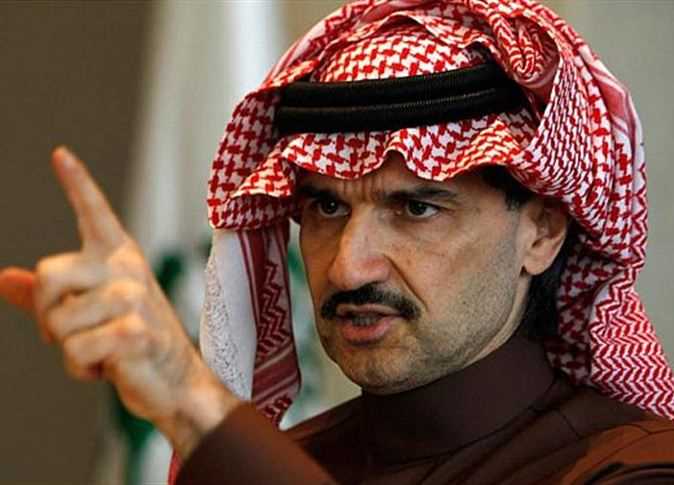 Saudi Prince al-Waleed bin Talal bin Abdulaziz al Saud was among the 11 prominent Saudi figures arrested on Saturday in Saudi Arabia on charges of corruption.
Al-Waleed bin Talal was the second name on a list of ministers and businessmen accused by the newly-formed anti-corruption committee for "money laundering."
Below, Al-Masry Al-Youm traces the main events of bin Talal's life.
A member of the Saudi royal family, bin Talal was born in Riyadh in 1955 to a Saudi father and Lebanese mother. Prince Talal being his father, was the son of King Abdulaziz Al Saud, the founder and first ruler of Saudi Arabia, while his mother was Princess Mona Riad el-Solh, the daughter of the late Lebanese Prime Minister Riad el-Solh, the country's first premier  since the country gained independence.
Bin Talal received his Bachelor of Science in Business Administration, magna cum laude, from Menlo College in California in 1979, and his Masters in Social Sciences with an Honors from Syracuse University, New York, in 1985.
In recognition of his business and civic accomplishments, he has received 23 Honorary Doctorates, over 70 Arabic and foreign medals, 22 Honorary Citizenships, and dozens of awards and titles.
He has both regional and global investments and is the CEO of the Kingdom Holding Company (KHC), founded in 1980. KHC's portfolio is primarily made up of local and international investments that include landmark hotel properties like the George V in Paris, the newly renovated Fairmont Plaza in New York City and The Savoy in London, in addition to the Fairmont in San Francisco and Four Seasons in Toronto.
Hotel Management Companies in which bin Talal has invested include world-renowned brands such as Four Seasons Hotels & Resorts, Fairmont Raffles Hotels (which include Fairmont, Raffles and Swissotel) and Mövenpick Hotels & Resorts.
Moreover, the company's international investment portfolio contains many blue-chip companies including Citigroup, News Corporation, Twitter, Time Warner, Apple Inc, Walt Disney Co., Disney Land, Paris and others.
In addition, Rotana Group is the media investment arm of Waleed bin Talal of which he owns 80 percent personally.
KHC's local investments include publicly listed companies such as Saudi Research and Marketing Group (SRMG), TASNEE (National Industrialization Company) and privately owned entities such as National Air Services (NAS), Kingdom Hospital, Consulting Clinics, Kingdom City, Kingdom Centre including the Four Seasons Hotel Riyadh, Kingdom Schools. KHC has two significant real estate developments, one in Jeddah consisting of 5.3 million sqm and over 1000m tall tower, while the second is in East of Riyadh consisting of 16.7 million sqm.
Waleed bin Talal has been continuously ranked as one of the wealthiest Arab people, and maintains a permanent position in international economic magazines' lists of the world's richest people. He has several times been listed among the top 500 powerful Arab personalities, the most powerful business leaders and the most powerful Arab economists.
Eight months ago, Forbes published its annual list of the wealthiest Arabs, which included Waleed bin Talal on the top of the list, with an accumulated fortune of $18.7 billion. He is the 45th wealthiest person in the world and is described as one of the world's smartest investors.
He has maintained a hostile attitude towards US President Donald Trump, and called on him to withdraw from the 2016 presidential race. In a tweet, he said: "Withdrew. You will not win". After his victory, he said, "My relationship with the American President is 25-year-old, I bought from him a hotel and a yacht, and after his election I congratulated him on his new post, and I think we have overcome the differences we had during his campaign."