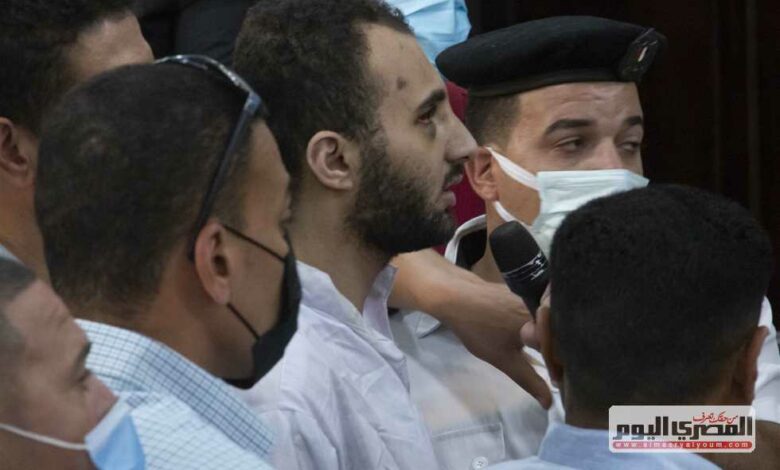 Lawyers have 60 days to review the ruling issued against Mohamed Adel, the murderer of Mansoura University student Naira Ashraf, cassation lawyer Farid al-Deeb announced.
The Mansoura Criminal Court on Wednesday read its verdict against the murderer, after a very short historical trial period.
The Court on Wednesday sentenced Mohamed Adel to death by hanging after Egypt's grand mufti stated his advisory opinion approving of punishing him by hanging.
"I do not prefer to talk now, but we have 60 days to take legal measures after reviewing the case papers and writing a memorandum of appeal against the judicial ruling issued and preparing a memorandum of appeal against the ruling before the Court of Cassation," Deeb added in a phone call to Al-Masry Al-Youm after the ruling was issued.
"I refuse to respond to things that are circulated through social media, such as my fees," he added.
Deeb said earlier he was up for defending the murderer.
In statements to Al-Watan newspaper, Deeb explained, "I am waiting for the court's ruling tomorrow, and then I will take my decision, whether to defend him or to withdraw."
"In the event that I am assigned to write a memorandum of cassation… I will not hesitate to carry out my duty, assigning all defenses and reasons and submitting it to the Court of Cassation within the legal deadlines," Deeb said.
Sentenced to death
The Mansoura Criminal Court on June 28 sentenced the murderer of Naira Ashraf  to death by hanging.
It referred the death sentence of the defendant to Egypt's Grand Mufti Shawky Allam for approval.
The court set the session for July 6 to read the final verdict, during which it sentenced him to death.
The defendant admitted to committing the crime, claiming he was harassed many times by the victim who he says threatened him and sent thugs after him.
He claimed he brought a knife with him on the day of the crime to defend himself, and attacked the victim after she insulted him in public.
The Public Prosecutor referred the defendant Adel to trial before to the Criminal Court over charges of premeditated murder of Ashraf.
The referral decision came 48 hours after the incident.
The Public Prosecution had established evidence before the accused from the testimony of 25 witnesses, including students, university security personnel, and shop workers in the vicinity of the incident.
The victim's family and friends also testified that the defendant used to harass and threaten the victim with harm because she refused to marry him after he proposed to her, and he tried more than once to force her to do so, which led them to report him to the police.