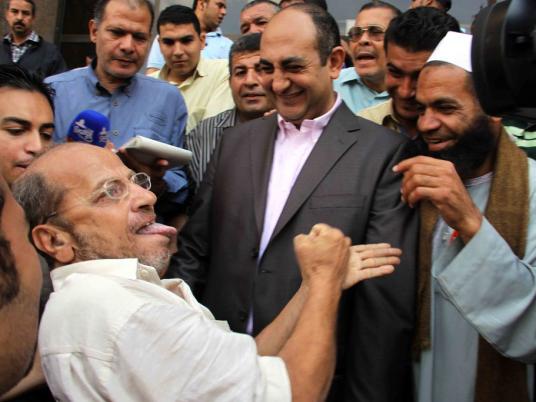 The country's constitution authors top newspaper headlines for the second day, as evidenced by Al-Shorouk's "The Constituent Assembly survived drowning." Most papers lead with stories about the administrative court decision to refer lawsuits against the assembly to the Supreme Constitutional Court.
State-run daily Al-Gomhurriya describes the Freedom and Justice Party as welcoming the decision, while April 6 criticizes the judiciary's procrastination.
The Muslim Brotherhood-published Freedom and Justice newspaper expects the referral to give the assembly the chance to finish its work during the three months the Supreme Constitutional Court needs to rule on the case.
Moreover, the daily quoted FJP spokesperson and Constituent Assembly member Mahmoud Ghozlan as saying that the constitution will be put to referendum and approved by the people before the court can issue a ruling.
It is not the first time that the Supreme Constitutional Court has faced off with the Muslim Brotherhood, as independent daily Youm7 highlights by focusing on the altercation between the court and the assembly. The paper quotes former Constituent Assembly member Sobhy Saleh as saying "the judiciary is in trouble."
On the other hand, independent daily Al-Watan writes that Vice President Mahmoud Mekky suggested making the constitution a temporary draft for two years if political groups could not come to an agreement.
Privately owned Al-Shorouk reports on its front page that Fathi Sorour, People's Assembly speaker during President Hosni Mubarak's regime, is to be released pending investigation into graft charges.
State-run daily Al-Ahram announced that the International Monetary Fund mission will arrive Monday to begin negotiations on Tuesday with the government over the proposed US$4.8 billion loan. The negotiations come after the government prepared a plan to reduce spending and redevelop the tax system.
Egypt's papers:
Al-Ahram: Daily, state-run, largest distribution in Egypt
Al-Akhbar: Daily, state-run, second to Al-Ahram in institutional size
Al-Gomhurriya: Daily, state-run
Rose al-Youssef: Daily, state-run
Al-Dostour: Daily, privately owned
Al-Shorouk: Daily, privately owned
Al-Watan: Daily, privately owned
Al-Wafd: Daily, published by the liberal Wafd Party
Youm7: Daily, privately owned
Al-Tahrir: Daily, privately owned
Freedom and Justice: Daily, published by the Muslim Brotherhood's Freedom and Justice Party
Sawt al-Umma: Weekly, privately owned
Al-Arabi: Weekly, published by the Nasserist Party
Al-Nour: Official paper of the Salafi Nour Party