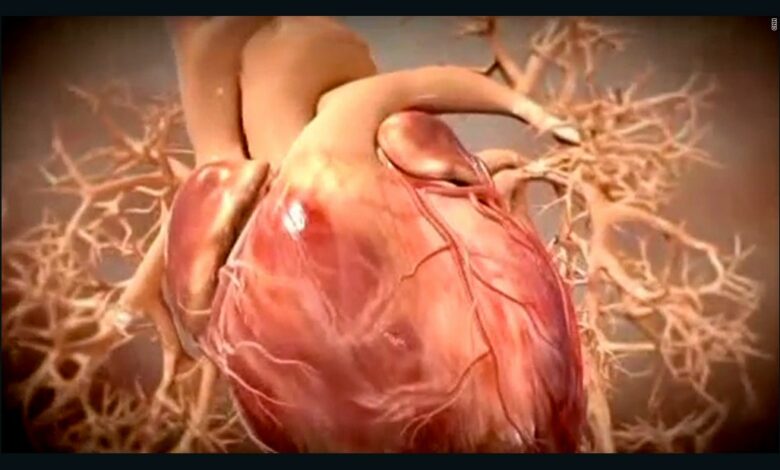 If you suspect that someone has gone into cardiac arrest, there are some simple steps you can take right away that could mean the difference between life and death.
About 70% to 90% of people who go into cardiac arrest in the US die before they get to a hospital because the people around them don't always know how to help.
What cardiac arrest looks like
Cardiac arrest is when a person's heart abruptly stops beating.
"The most common rhythm that you'll see is something called ventricular fibrillation, which is basically like the heart is like a bag of worms. It's beating chaotically, and it's no longer able to effectively pump," said Dr. Christine Albert, director of the Cardiology Department at the Smidt Heart Institute in Los Angeles.
"The person collapses because the brain is no longer working, and there's just a couple of minutes that you have to try to get that rhythm back to a normal rhythm."
Warning signs can include shortness of breath, a pounding heart, weakness and chest discomfort. But more often than not, cardiac arrest happens without warning.
Someone who's in cardiac arrest will not have a pulse and won't respond to sound or touch. They'll either stop breathing or make gasping-like sounds, which aren't true breathing but a reflex that happens when the brain isn't getting enough oxygen.
What causes cardiac arrest
Cardiac arrest can be caused by irregular heart rhythms called arrhythmias. Heart failure can cause it, as can thickening of the heart muscle called cardiomyopathy.
Cardiac arrest can follow a heart attack, which is when a blockage keeps the heart from getting enough blood. The muscle starts to die, but unlike with cardiac arrest, it will continue to pump.
It might also happen because of electrocution, drowning, choking, respiratory distress or trauma. A hard strike to the chest, as for a baseball player, could knock the heart out of rhythm.
What to do first: Call 911, use an AED
If you see someone with symptoms of cardiac arrest, call 911 immediately. You want to get professional help there as quickly as possible. When the heart can't pump blood to the brain and the lungs, the person may become brain-damaged or die within minutes.
If someone else is around, divide the duties. One person should call 911 while the other looks for an automated external defibrillator, or AED.
These lightweight devices can jolt a person's heart back into regular rhythm. They're often found in public places like airports, offices and schools. An AED may look daunting, but it's designed for use by anyone, even untrained bystanders.
When you press the power button, the device will give you step-by-step voice instructions on where to put the electrode pads on the person's chest.
Once the pads are in place, the device measures the person's heart rhythm. It won't deliver a shock if the person doesn't need one. But if they do, the AED will tell you to stand back and push a button to deliver the shock.
Start CPR
After using the AED – or right away, if you don't have access to one – start chest compressions.
Put your hands in the center of the person's chest and press hard at 100 to 120 beats per minute. It may help to hum a song with this tempo like "Stayin' Alive" by the Bee Gees, Justin Timberlake's "Can't Stop the Feeling" or Lady Gaga's "Just Dance."
"You are literally acting like an external heart," said Dr. Comilla Sasson, a practicing emergency medicine physician and vice president for science and innovation for emergency cardiovascular care with the American Heart Association.
It can get tiring, she said, so if someone else is nearby, have them take over when you need a break. If they don't know CPR, have them watch you first. "That's what we do in the emergency room," Sasson said.
Locking your elbows gives you more leverage to push. With an adult, you'd typically use both hands for the chest compressions. But if you're helping a baby, use one hand.
"Some people will ask me, 'what if I do chest compressions and break a rib and hurt them?' I tell them that this person is literally dead, and if they are fortunate to wake up because you did chest compressions, they're going to be happy that you helped save their life. There's a small number of people that get a broken rib," Sasson said.
How to get training
Many organizations offer CPR and AED training.
The American Heart Association and the Red Cross offer in-person courses, as do many local organizations.
The Heart Association and the Red Cross also offer hands-on training sessions with instructors that are all online.
Plan ahead
Sasson says it's important that parents of young athletes have a conversation with the child's coach to make sure they have a cardiac response plan in place that includes CPR and an AED. If someone has an incident at school, on the field or during an extracurricular activity, everyone will know what to do.
Families should also make sure they have a plan at home just in case.
"Who's going to call 911? Who's going to start chest compressions? Who's going to open the door when the ambulance arrives? Just talking about it helps. I think of this like a tornado drill," Sasson said. "Hopefully, you'll never need to know what to do, but if that situation happens, you want to have a plan in place about what you're going to do to help keep your loved one alive."