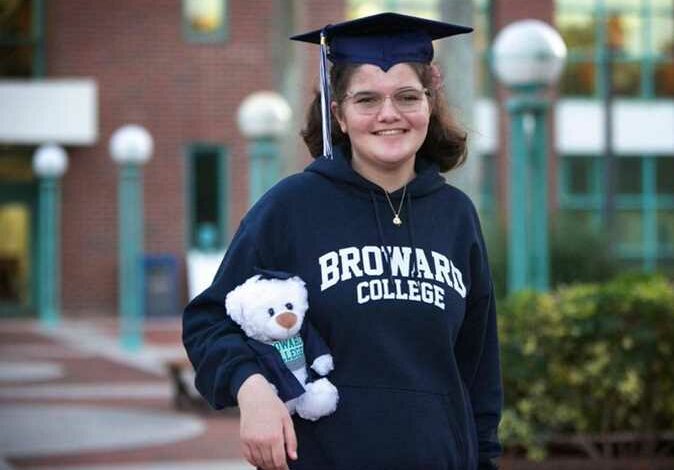 Over the past few days, 12-year-old Egyptian-American girl, Sawsan Ahmed, was the talk of the American press after she became the youngest student to graduate from Broward College in Florida in the college's 61-year history.
Sawsan is the daughter of MD Wesam Ahmed, a physician at the Cancer Center at Cleveland Clinic Abu Dhabi, who wants his daughter to become a doctor.
The girl graduated from Broward College, which offers undergraduate education and nationally recognized degrees, with a major in biological sciences on December 15.
Ahmed is only just getting started, as she will continue her educational career by studying at the University of Florida, where she plans to study computer programming, chemistry and biology.
The prodigy's family realized that she was academically gifted from the start, passing school exams several years above her real level.
Sawsan was only nine years old when she received her high school diploma and passed the Postsecondary Education Readiness Test (PERT), a placement test that Florida uses to determine if a student is ready for college.
Her mother, Jeena Santos said that her daughter was able to assume the academic responsibility on her own from the beginning, explaining that they did their best to develop her talent.
By the time she was ten, she began taking classes at Broward College gradually in order to adapt to a more advanced curriculum- and quickly excelled.
"In the beginning, everyone was helping me, and some called me sweet and honey and things like that," Sawsan recalled how older students in the college welcomed her on the grounds that she was a child, but by the end of the semester they started asking her for help in answering questions.
The girl confirmed that she draws her strength from the stories of successful women in the fields of science, technology, engineering and mathematics, explaining that Andrea Gellatly, a biomedical engineer, is one of her role models.
About her personal hobbies, she said that at the time she is not studying science, she enjoys art, music, watching Disney movies and playing video games, just like any other kid at her age.
Edited translation from Al-Masry Al-Youm