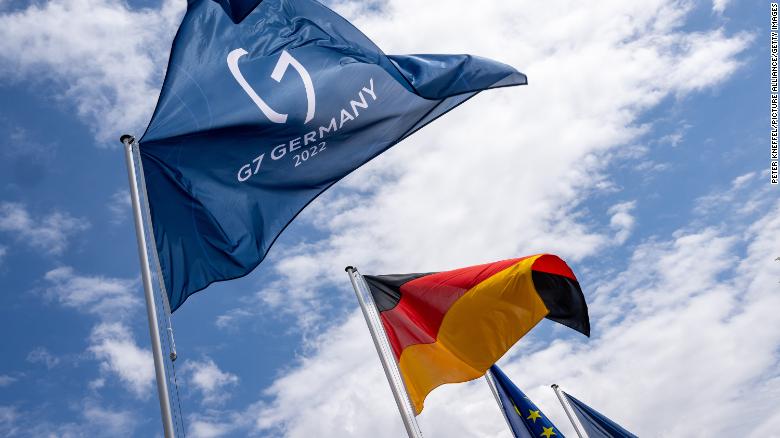 (CNN) – What a difference a year makes. Enormous challenges, some of them barely imaginable when the G7 leaders last met 12 months ago, are bearing down on the world's most prosperous democratic nations as they prepare to meet in Germany.
Optimism was in the air at the Cornish beach resort of Carbis Bay in 2021 as the G7's presidents, prime ministers and chancellor met face-to-face for the first time since the Covid-19 pandemic began.
Together they vowed to "beat Covid-19 and build back better," to "reinvigorate economies," to "protect our planet" and to "strengthen partnerships."
But global events have since overtaken their best efforts, and it is far from clear if they will be able to build on those goals this year. Russia's unprompted invasion of Ukraine is a large and singular cloud, but other thunderheads are gathering too.
Over the next few days, the leaders of Japan, Canada, the United States, the United Kingdom, France, Italy, the European Union and host Germany will meet amid the seclusion of Bavaria's luxurious Schloss Elmau retreat.
The spa resort, nestled in a peaceful valley, usually offers well-heeled visitors a brief chance to escape from the cares of the world — but even Schloss Elmau can't shield the world's leaders from the problems gathering on their horizon.
Russian President Vladmir Putin's officials are hinting at nuclear Armageddon, China has become increasingly assertive, a global food crunch is on the way, oil prices are spiking, and a global economic slowdown and a cost-of-living crisis are looming. Climate change aspirations are also being confounded and supply chain problems are hobbling hopes of a post-pandemic return to normality.
And on top of all that, last year's summit host, the UK, is threatening to break international laws over its Brexit agreement with the EU — not to mention its controversial plan to deport asylum-seekers to Rwanda — despite the risk of rocking the world order it helped build, and diluting the G7's already limited effectiveness.
Although G7 leaders can look back with some satisfaction at their unity in the face of Russia's unprecedented aggression — as seen in that "strengthening partnerships" goal set in Carbis Bay — the scale of looming crises dwarfs even that.
Putin is not entirely to blame for the coming storm but his unjustified war in Ukraine is inextricably linked to many of the crises that are brewing. Without it, the fixes required would be easier and fewer, their impact less pernicious.
G7 leaders pose for the official welcome and family photo during the UK-hosted G7 Summit in Cornwall's Carbis Bay in June last year.