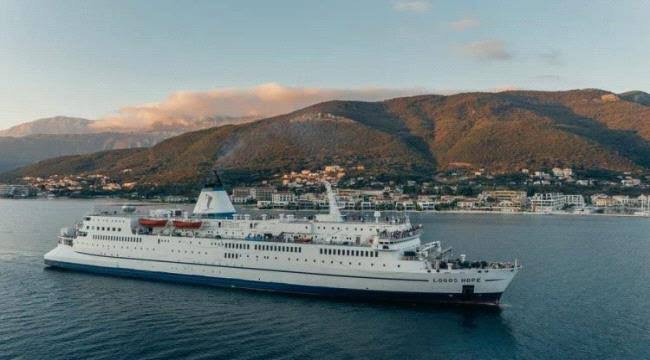 MV Logos Hope, the world's largest floating library, will visit Egypt in January 2023, according to Roayah News Network.
The MV Logos Hope ship went through a number of successful voyages in the Arab world and the Middle East, as it docked in Abu Dhabi port three times in the years 2007, 2010, 2013, recording record numbers in terms of the number of visitors each time.
It also visited Libya, Oman, Qatar and Bahrain.
The management of the Logos Hope ship announced its visit to Egypt, which is good news for book lovers and culture lovers.
The giant floating ship announced that it will anchor in Port Said, Egypt, on January 4, 2022, and will leave on January 23, after a hiatus of more than 12 years.
Logos Hope is the largest floating book fair
MV Logos Hope is described as the largest floating book fair in the world.
It anchors now on the island of Cyprus where it will head on a tour the Middle East.
The ship plans to settle for the last two weeks of this year in the Moroccan city of Misurata, and then will head to Port Said.
Lagos Hope's last visit to Egypt was in 2010.
Logos Hope's visit is considered a revitalization of the Egyptian cultural and literary life, especially as it will coincide with the Cairo International Book Fair scheduled for next January.
The two events will compete at the same time to attract the largest number of readers and paper book lovers.
Family Visit
Logos Hope includes an expanded collection of books and according to its official website, it currently includes more than 10,000 titles.
All of which are sold at reasonable prices within the reach of everyone, and includes a wide range of subjects: science, sports, hobbies, cookery, arts, medicine, lexicons, languages, philosophy.
In recent years, the library's administration has paid special attention to children, providing thousands of children's books, academic texts, dictionaries, atlases, etc.
Hence visiting it has become an enjoyable opportunity for a family affair.
The deck is fully air-conditioned and open for visitors to explore the sea at the time.
A successful visit to in the Arab world
In a related context, the ship's management wants to make the visit an integrated entertainment visit.
Therefore when moving from the reception, visitors can view a film chronicling the ship's visits to the most important ports in the world.
It also offers an interactive tour that can capture the attention of attendees for two weeks in almost all cities.
The show also includes an introduction to the ship, and it includes a café that serves ice cream, drinks, and snacks, to meet everyone's requirements and satisfy their tastes.