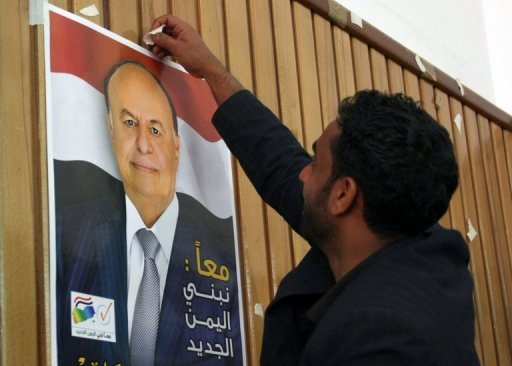 An "unprecedented" US and Yemeni aerial campaign has killed more than 40 Al-Qaeda militants in recent days in a bid to thwart attacks by the network's local affiliate, officials said.
Al-Qaeda in the Arabian Peninsula (AQAP) has been linked to a number of failed terror plots against the United States, and its leader recently appeared in a rare video in which he vowed to attack Western "crusaders" wherever they are.
A top Yemeni official told AFP the "unprecedented operation" in recent days came after "information that Al-Qaeda was plotting attacks on vital installations, military and security, as well as foreign interests in Yemen."
The official, who requested anonymity, spoke after three militants, one of whom may have been a senior commander, were killed in a drone strike in southern Yemen on Monday, the latest in an accelerated series of raids against AQAP.
The United States is the only country operating drones over Yemen, but US officials rarely acknowledge the covert drone programme.
A Yemeni official said that shortly after midnight (2100 GMT Sunday) a drone fired a missile at an off-road vehicle carrying three men in the southern Shabwa province, seen as an AQAP stronghold.
Witnesses confirmed that the vehicle had been completely destroyed and said they saw the charred remains of three individuals.
They said an unmarked commando helicopter arrived shortly thereafter to retrieve the bodies.
"The operation seems to indicate that one of the dead could be an important leader of Al-Qaeda," one witness told AFP.
US drones on Sunday killed more than 30 militants when they fired "several missiles" into an AQAP training camp in the rugged Wadi Ghadina region in the southern province of Abyan, a tribal chief said.
A defence ministry statement confirmed that "several" militants were killed in an attack on "training camps," including "foreigners."
The top official said Yemeni MiG-29 jet fighters took part in the raids.
Yemen's interior ministry meanwhile said that 10 people suspected of wanting to join Al-Qaeda had been arrested at a security roadblock in Shabwa.
On Saturday, a drone strike in the central province of Baida killed 10 Al-Qaeda suspects and three civilians, according to the official Saba news agency. It did not say who carried out the attack.
'War against crusaders'
The weekend attacks came after AQAP chief Nasser al-Wuhayshi pledged in a rare video appearance to fight Western "crusaders" everywhere, apparently referring to the United States and other countries that have intervened in Muslim lands.
"We will continue to raise the banner of Islam in the Arabian Peninsula and our war against the crusaders will continue everywhere in the world," he said in the video posted online.
The video, which showed Wuhayshi addressing militants, could have been shot in the Al-Kur mountain range, which stretches between Abyan, Shabwa and Baida provinces, and has become a stronghold for AQAP, tribal sources said.
Yemen's President Abdrabuh Mansur Hadi has defended the use of drones, despite criticism from rights groups concerned about civilian casualties.
Drone strikes "have greatly helped in limiting Al-Qaeda activities, despite some mistakes which we are sorry about," Hadi recently told the pan-Arab Al-Hayat daily, adding that the use of manned warplanes could cause "much bigger losses".
His comments had come after parliament — despite its limited powers — voted to ban drone strikes in response to attacks in December that hit two separate wedding processions.
The United Nations said 16 civilians were killed in those strikes.
The United States has defended the use of drones against Al-Qaeda, saying they allow it to target the global terror network without sending soldiers into lawless areas where local authorities have little or no control.
Rights groups have criticised the drone programme in Yemen and other countries, and repeatedly urged the US administration to investigate strikes in which civilians have been killed.