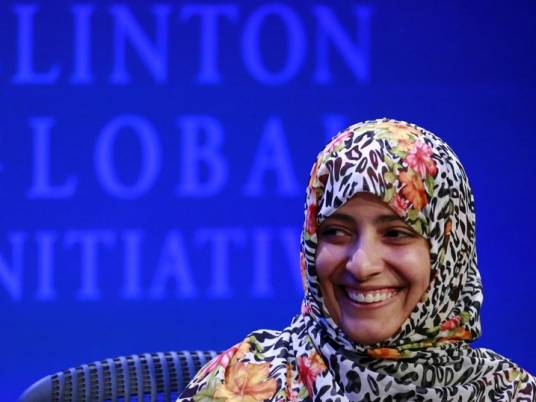 Egyptian airport authorities have barred Nobel prize-winning Yemeni peace activist Tawakul Karman from entering the country, security sources said on Sunday.
The security sources did not provide a reason for the ban. State news agency MENA said "it was worth noticing" that Karman had announced her solidarity with supporters of deposed President Mohamed Morsy.
A spokesperson for Morsy's Muslim Brotherhood has said Karman had recently joined demonstrations in Cairo demanding the former leader be reinstated.
Karman was sent back on the same plane she flew in on, said the security sources.
Karman's Twitter feed on Sunday said the writer and activist had been held at Cairo International Airport and prevented from joining protests. MENA said Karman was on a list of people who were not allowed to enter Egypt.
The mother of three, who became a figure of symbolic importance in the 2011 Yemeni uprising, is the first Arab woman to win the prize. In Yemen they call her the "Iron Woman" and the "Mother of the Revolution."
Karman is a member of Yemen's leading Islamic opposition party, the Islah, a group that has caused alarm in the west, mainly because of its most notorious member, Abdul Majeed al-Zindani, a former Osama bin Laden adviser considered a terrorist by the Americans.
The Egyptian army's overthrow of Morsy one month ago has plunged the country into political turmoil.