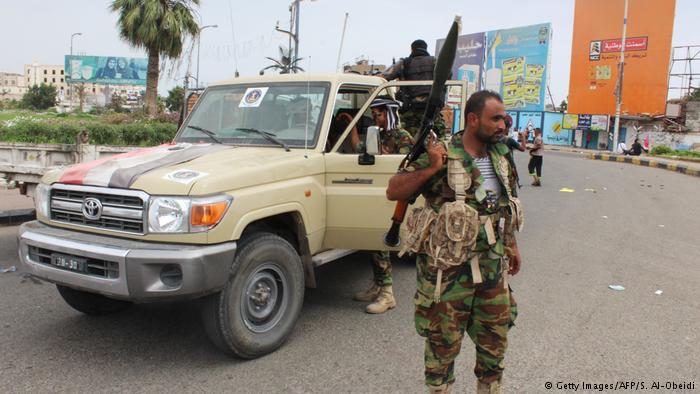 The embattled government of Yemen said on Sunday that separatists from the country's south were trying to launch a coup in the interim capital of Aden. President Abed Rabbo Mansour Hadi called on the Saudi-led coalition fighting the Houthi rebels to intercede on this new front in the conflict, and beseeched the separatists to engage in a temporary ceasefire.
"Based on instructions from President Hadi, supreme commander of the Yemeni armed forces, and after talks with the Arab coalition … you must order all military units to cease fire immediately," Prime Minister Ahmed bin Dagher was quoted by French news agency Agence France-Presse as saying.
The government also ordered its own troops "to return to base," following fierce clashes across Aden, in which at least 10 people were killed and around 100 others wounded.
The fighting had subsided by the evening after Dagher ordered a truce and instructed forces loyal to the government to return to barracks, witnesses said.
Hospitals said at least nine fighters and one woman were killed in the fighting. Medecins Sans Frontieres said 86 people were being treated, including seven people from one family whose car was hit by a shell.
Proxy war
The southern port city has been used as a temporary capital by Hadi's internationally recognized government since it was ousted from the capital Sanaa by the Houthis in 2014.
With the development of southern separatists taking up arms, a new dimension has been added to the complex conflict. Ostensibly a civil war, the fighting in Yemen has taken on the characteristics of a proxy war pitting Saudi Arabia, which supports Hadi, against regional rival Iran, which backs the Houthis.
The separatists are allied to the United Arab Emirates.
The conflict has had disastrous humanitarian consequences, causing thousands of civilian deaths and leaving hundreds of thousands on the verge of starvation.