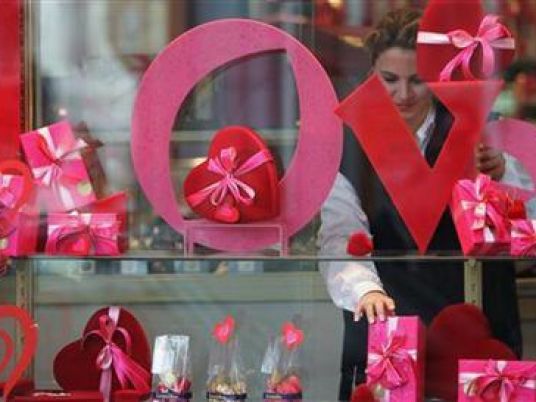 Because Valentine's Day is a very special day for lovers, whether they are married, engaged or in love, single people in Egypt are celebrating the day as well, but in different ways.
There are two main ways for singles to spend Valentine's Day: the first is to go out in groups of single people, and spend a day with fun activities. The second is called "One night for love," which means that a young man chooses a girl, both of which are single, and go out with each other only for this day, and experience being in a relationship, exchange gifts, go to the cinema, and spend the evening together.
Mohamed Ibrahim, a single young man, and admin of a Facebook group, says that he and other colleagues organize campaigns to encourage young people to go out with friends and loved ones, which is very welcome among young people.
He says that this call comes against the frustration and depression they face because they have no partners.
Dalia Younis, a single woman, launched a call on Facebook for a concert of "Singles" on Valentine's Day, to make them happy, and to send a message to them that life does not depend on being in a love relationship. "If I were not in a relationship by Valentine's Day, come and spend the night with us in a distinguished concert, we'll sing Arabic songs about all the levels that singles go through," she said.
"The goal is to convey a message that your happiness and your life expectancy are determined by your emotional state and that you are not in a relationship," she said. "We are also ruling or classifying people on the basis of their social status."
Sherif Kamal, a young man, said that on Valentine's Day, he does not like to leave the house to avoid seeing the ceremonial events of the couples. He says he wishes to be part of the Valentine's Day's celebrations but it affects him negatively seeing it while he is single.
"On this day I am looking for events for groups of singles, and we are very happy to compensate ourselves with it for our emotional deficiencies," Kamel said.
Basma Mahmoud said that she suggested "One night for love" to her friends to compensate themselves emotionally during that day.
"I'm thinking of something cool guys which is 'One night for love.' You ask anyone you wish to go out with. Wear a dress, and young men wear something nice. You go out eat and go to cinema, hold each other hand, and you may even play," she wrote in her call.
A young man named Karam said: "I asked one of my female friends to go out with me on Valentine's Day and spend a day of emotions for only 24 hours because we were singles."
Edited translation from Al-Masry Al-Youm