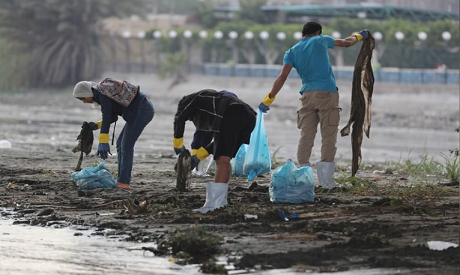 On Saturday February 9, Cairo saw more than 250 people volunteer for an initiative seeking to clean the river Nile from plastic bags, bottles and other rubbish.
Minister of Environment Yasmine Fouad launched a new campaign called "Youth for the Nile" in cooperation with several youth movements and community foundations, aiming to clean up pollution along the Nile River.
The Ministry of Environment and the Egyptian Federation for Water Ski and Sailing (EFWSS), through its collaborating teams Greenish and VeryNile, worked hard to clean up the Nile.
This clean-up took place at the EFWSS's headquarters.
The event hosted various entertainment shows in addition to talks raising awareness over the river's pollution, stressing on how dangerous these plastic wastes are on the marine life.
Amongst hundreds of youth, actress Mai al-Gheity and actor Ahmed Magdy took part in the cleaning process and grudged alongside workers into the mud, removing what they could.
Dai Soliman, one of the volunteers told Reuters that people who saw them while cleaning up the Nile would hopefully think of the things they threw in the Nile. Soliman sees this as a direct awareness in action against pollution.
Climbing into boats, volunteers exerted rigorous efforts to get rid of as much floating trash as possible during the clean-up.
"The participants successfully collected from three to four tons of garbage," Minister Fouad said.
Fouad added that similar cleanups will be taking place in several provinces including Luxor, Assiut and Aswan among others.
The government's Egyptian Environmental Affairs Agency conducted a report last year declaring that 150 million tons of industrial waste end up in the Nile yearly.