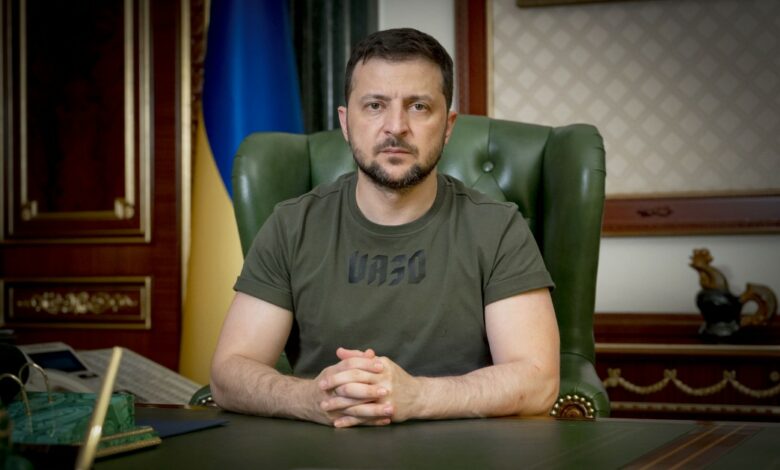 Ukrainian President Volodymyr Zelensky called on Western allies to supply his country with a modern, effective air defense system after Russia struck targets in the Khmelnytskyi region of western Ukraine on Tuesday evening, causing air raid sirens to ring across the country.
"The Russian army does not take any breaks. It has one task — to take people's lives, to intimidate people — so that even a few days without an air alarm already feel like part of the terror. And this evening, Kyiv and again almost the whole of Ukraine heard the air alarm," Zelensky said in his nightly address on Tuesday.
"Some of the missiles were shot down by our air defense forces. And we have not reduced and will not reduce our diplomatic activity for a single day to obtain modern anti-missile systems for Ukraine in sufficient quantity.
"This is a maximum task for our state — to provide basic security for Ukrainians, basic protection against missile attacks already this year. But the fulfilment of this task depends not only on us, but also on the understanding of our fundamental needs by our partners."
Missiles fired: The head of the Khmelnytskyi region military administration, Serhii Hamalii, said four missiles had been fired at the territory. One of the projectiles was intercepted by Ukraine's air defenses, with debris falling in the Shepetiv district. The remaining three landed on civilian infrastructure, Hamalii said.
"The target of the strikes was a water tower that fully supplies the community with water," he said on Tuesday evening. "As a result of the explosions, one person was injured."
According to Zelensky, there were also Russian strikes in Sumy, Mykolaiv and Dnipropetrovsk on Tuesday.