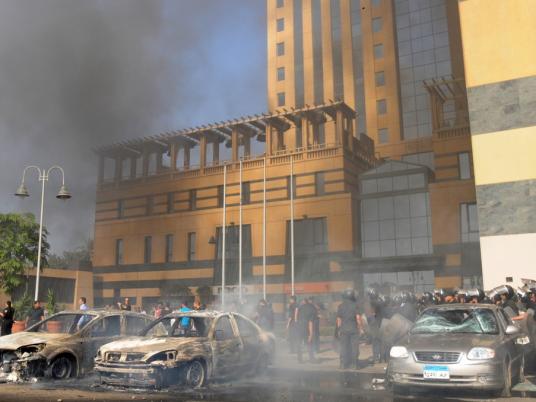 The Interior Ministry issued a statement late Thursday saying that 18 suspects in the Nile City towers violence, near the Ramlet Boulaq slum area in Cairo, have been arrested.
The incident led to the death of one man and the injury of seven people including two soldiers, a police officer and a private television channel reporter, as well as the damage of 14 cars and six motorcycles. Until the late hours of Thursday, police continued to fire tear gas into the slum, where residents, including women and children were suffocating.
The statement is the first to be issued by the ministry under new Interior Minister Ahmed Gamal Eddin, who was sworn in Thursday along with the rest of the new cabinet.
Gamal Eddin went to his office once he was sworn in to follow up on the incident and the arrests, the statement added.
The Interior Ministry said in an earlier statement that the events began when a number of "thugs" who had acted as temporary security during the 25 January uprising attempted to storm the Nile City towers to demand additional money from the building management.
The statement added that violence escalated when security personnel shot at them, leading to the death of a man named Amr al-Bunni, who local residents say had worked on the temporary security force. 


Besides being the site of a stark difference in resources, The Nile City towers and the Bulaq shacks have also seen previous tensions. Residents of the shacks have protested repeatedly the towers' owners' intention to acquire their land. On 20 June, the Cairo Governorate issued an order authorizing police to evict them.