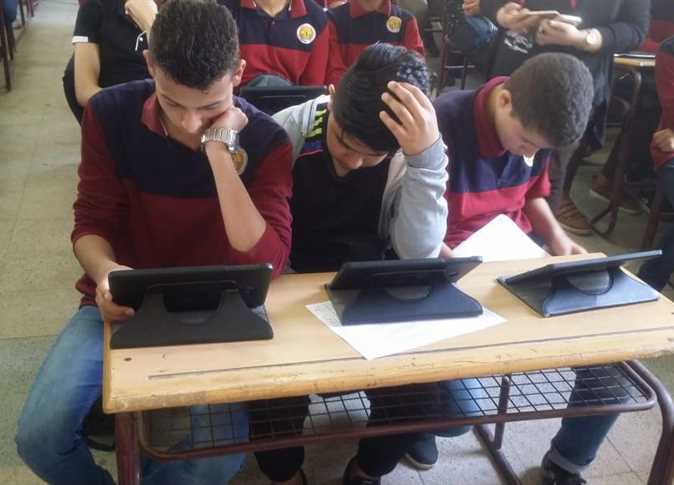 First year secondary students in Egypt started taking the first foreign language exam on electronic tablets at home on Monday.
These tests are part of a trial run of at-home testing for students in Cairo, Monufiya, Kafr al-Sheikh, Fayoum, Luxor, the Red Sea, Sohag, Qena, Aswan, North Sinai and South Sinai.
In order to reduce the load on the testing platform, students in Giza and Gharbiya started the test at 10 am.
Meanwhile, students in Daqahlia, Qalyubiya, Beheira, Beni Suef, Ismailia, Suez and Matrouh began the test at 12 pm, and students in Sharqiya, Alexandria, Minya, Assiut, Damietta, Port Said and New Valley started at two pm.
The Ministry of Education set up central operations rooms in the ministry and in the educational directorates to follow the exam's progress and to solve problems during testing.
Minister of Education Tarek Shawky said that the trial testing run aims to solve any potential technical problems before the final exams take place in May.
On the morning of March 19, roughly 600,000 first year secondary students began taking their exams electronically, a process that was plagued by a host of technical issues. About 10,772 students in Damietta experienced problems with taking the exam on their tablets just minutes after the start of testing.
The students were forced to use a paper exam after the electronic exam system failed. Although the electronic system later came back online, the Ministry of Education decided to continue the exam on paper to avoid confusion.
Egypt has continued to uphold quarantines in several areas and villages across the country, as more coronavirus cases continue to be discovered.
Egypt on Sunday confirmed seven additional deaths and 103 new coronavirus cases, bringing the country's number of confirmed total cases so far to 1,173.
Seventy-eight people have died from the virus in Egypt.