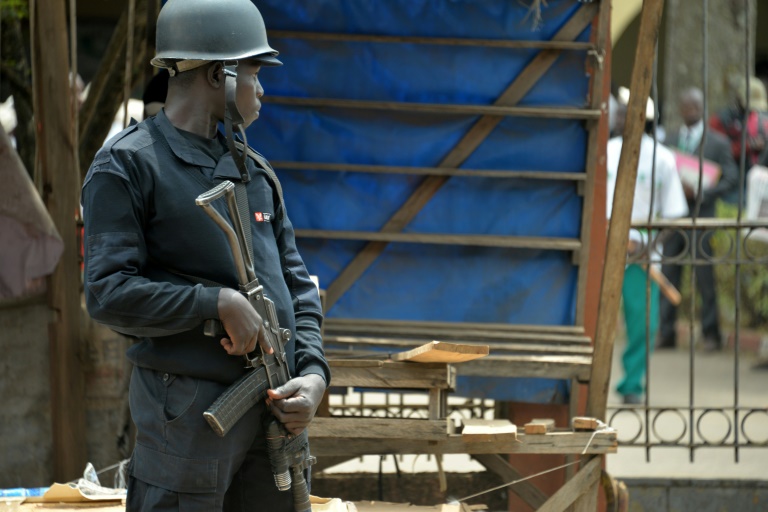 Seventy-nine school pupils abducted by gunmen this week in a troubled English-speaking region of Cameroon have been freed, the country's communications minister told AFP Wednesday.
The kidnappings on Monday were the first such mass abductions seen in Cameroon and coincide with an upsurge of political tensions in the majority French-speaking country.
"All 79 students have been released," said Issa Bakary Tchiroma, without giving details of the circumstances under which they were set free.
The students were enrolled at the Presbyterian Secondary School in Bamenda, capital of Cameroon's Northwest Region — one of two areas where surging anglophone separatist militancy has been met with a brutal crackdown by authorities.
They were kidnapped with three school staff members, but Tchiroma said their fate was not yet clear.
The students' release comes a day after Cameroon's 85-year-old President Paul Biya was sworn in for a seventh term in office.
A six-minute video seen by AFP on Monday, but which could not be confirmed independently, showed 11 boys apparently aged about 15 giving their identity and name of the school in English, and adding that they were abducted by the "Amba Boys" — a name for anglophone separatists.
While such mass kidnappings were previously unknown in Cameroon, the abduction came after two major such incidents in neighboring Nigeria, where the Islamist group Boko Haram snatched more than 200 schoolgirls from the Borno state town of Chibok in April 2014.
Some 107 girls have since been released or found, but the Islamist group abducted scores more schoolgirls from neighboring Yobe state in February this year.
Biya has promised to pursue policies of decentralization to address "frustrations and aspirations" in English-speaking regions, his first public acknowledgement of resentments that have spilled over in the country's anglophone Northwest and neighboring Southwest Region.
In 2016, anger at perceived discrimination in education, the judiciary and the economy fanned demands for autonomy in the anglophone regions.
But Biya refused any concessions and a year later, radicals declared an independent state — the "Republic of Ambazonia" — taking up arms soon after.
Separatists have since attacked troops and police, boycotted and torched schools and attacked other state symbols, prompting a brutal official crackdown.
At the start of the school year in September, several secondary schools were attacked, a headmaster was killed and a teacher was badly mutilated.
At least 400 civilians and more than 175 members of the security forces have been killed in the year to September, according to a toll compiled by non-governmental organisations.
More than 300,000 other have fled the violence, some crossing into neighboring Nigeria.
Around a fifth of Cameroon's 22 million people are English-speaking — a minority whose presence dates back to the colonial period.