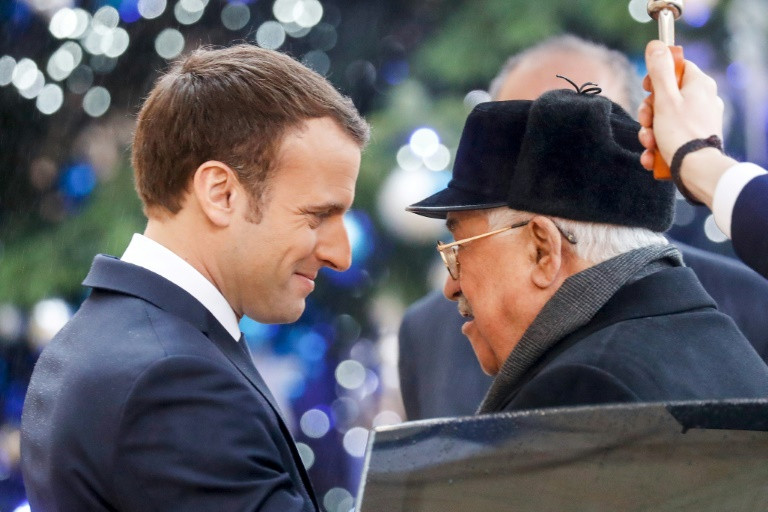 Palestinian president Mahmud Abbas said Friday that he would "no longer accept" any peace plan proposed by the United States, dealing a pre-emptive blow to a fresh initiative expected by Washington next year.
The comments in Paris came hours after 128 members of the United Nations voted to condemn US President Donald Trump's decision on December 6 to unilaterally recognise Jerusalem as the capital of Israel.
That move continues to reverberate in the Middle East and European diplomats are pessimistic about the Trump administration's peace plan which is being prepared behind closed doors and will be presented to both sides in 2018.
US Vice President Mike Pence postponed a trip he was due to make to the region this week, after Palestinian and Arab Christian leaders expressed reluctance to meet him.
"The United States has proven to be a dishonest mediator in the peace process and we will no longer accept any plan from it," Abbas told a joint press conference with French President Emmanuel Macron.
Macron repeated his earlier condemnations of the US decision on Jerusalem, but he also ruled out recognising Palestine as a state unilaterally, which France has mooted previously.
"The Americans have marginalised themselves and I am trying to not do the same thing," Macron said, conscious that any move to recognise Palestine would antagonise the Israelis.
'Massive setback'
On Thursday evening in New York, the 193-member General Assembly adopted a resolution by 128 to nine with 35 abstentions that rejected the US decision on Jerusalem.
The defeat for the US — despite threats that it might cut off funding for the UN or to countries that voted against it — was called a "massive setback" by Palestinian UN envoy Riyad Mansour.
Speaking at the emergency session, US Ambassador Nikki Haley warned that Washington "will remember this day".
"America will put our embassy in Jerusalem," Haley said in defence of the US move, which broke with international consensus and unleashed protests across the Muslim world.
"No vote in the United Nations will make any difference on that," Haley said. "But this vote will make a difference on how Americans look at the UN and on how we look at countries who disrespect us in the UN."
Abbas hit out at efforts by the US to intimidate countries ahead of the vote.
"I hope that the others will learn the lesson and understand that you cannot impose solutions by using money and trying to buy off countries," he added in Paris.
Turkish President Recep Tayyip Erdogan said the UN vote showed the "illegality" of Trump's decision, urging the United States to withdraw it.
Trust in Macron?
Abbas' visit to Paris less than a fortnight after a trip here by Israeli Prime Minister Benjamin Netanyahu has raised speculation about whether Macron might be tempted to mediate in the world's most intractable conflict.
He and French diplomats have ruled out any fresh French initiative, insisting that the American effort must run its course first.
The 40-year-old Macron has emerged as a dynamic international figure since his election in May but his team insists he is focused on reforming the European Union, avoiding instability in Lebanon, and anti-terror efforts in Syria and west Africa.
But Abbas, like Netanyahu before him, praised the young centrist at the Paris news conference, notable for the warmth of the exchanges and the relaxed body language.
"We have trust in you. We respect the efforts made by you and we count heavily on your efforts," Abbas told him.
Macron replied that he had "committed myself very clearly to doing everything" to further the peace process and would visit the Palestinian territories in 2018 and "intensify" contacts between the French and Palestinian governments.
"Palestine is not on its own. We will work so that she can live within sound and recognised borders, in security alongside Israel, with Jerusalem as the capital of the two states," Macron tweeted afterwards.
Many analysts in Washington believe that the US remains the only power able to play the mediator role in the crisis.
"There's been peaks and valleys before on this issue," David Makovsky, a peace process veteran and senior fellow of the Washington Institute for Near East Policy, told AFP.
"If I had a dollar every time people said 'Oh, it's over now, the US is not the broker…" he added ironically.