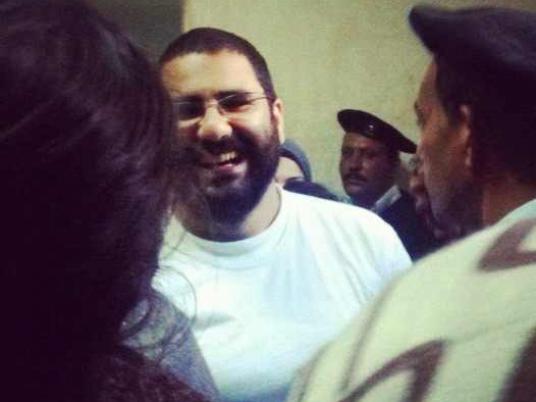 Egyptian television has exercised a "systematic strategy" to tell lies throughout its news coverage and persistently tarnishes the image of protesters, said activist Alaa Abd El Fattah.
In a rare interview on Egypt's national satellite channel on Friday, Abd El Fattah said state TV expresses the opinions of the those in power and not the people, adding that it must be purged of leaders from the formerly ruling National Democratic Party (NDP).
Abd El Fattah is a prominent blogger who has been among other protestors calling for a sit-in in front of the state TV building, Maspero, demanding the organization be purged of corrupt media officials.
Recently state TV has been accused of acting as a mouthpiece of Egypt's military rulers, justifying their acts while mocking the demands of pro-democracy forces.
In the interview Abd El Fattah described some aspects of its biased coverage, saying for example that state TV did not broadcast the notorious video of a female protester being beaten and dragged by army soldiers in the December clashes outside the Cabinet building.
He added that state TV only mentioned the video — without playing it or even showing stills of the victim — after it had already been widely circulated.
Abd El Fattah added that state TV continues to suffer from corruption and squander public money.
He also pointed out that certain female presenters employed by state TV were fielded by the NDP for the women quota seats in the 2010 parliament under the Mubarak regime.