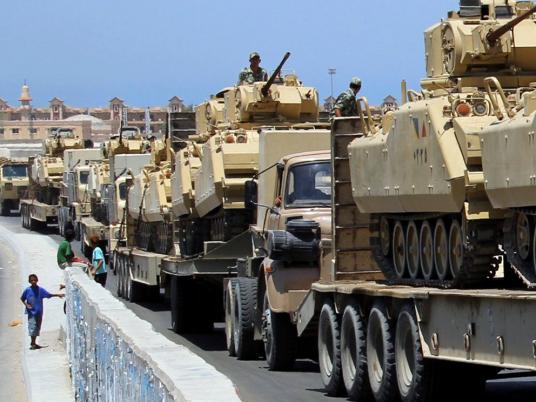 Activists and public figures have called for another demonstration at the Tomb of the Unknown Soldier in Nasr City Friday in support of the Armed Forces.
The activists have called for protests to reject the Muslim Brotherhood and President Mohamed Morsy's rule, although many also protested against the Supreme Council of the Armed Forces when it was in power.
On Monday, hundreds demonstrated in front of Nasry City memorial in support of the Armed Forces, rejecting what they called attempts to "Brotherhoodize" the Army. Protesters were calling for the military to return to power, many frustrated with what they view as Morsy's poor performance over the past seven months.
"We must protect our national security at home and abroad," said Tahani al-Gebali, former vice president of the Supreme Constitutional Court.
Gebali said the groups that plan to participate Friday include the Silent Majority movement and Maspero Youth Union in addition to writer and pro-military former lawmaker Mostafa Bakry.
Hamdeen Sabahi, former presidential candidate and founder of the Popular Current Party, said the army is an independent institution that does not require support from demonstrations.
Islamists also rejected the calls to protest.
The Muslim Brotherhood said it considers the demonstration an attempt by liberals to involve the army in politics, while Salafi leaders described it as "an invitation to dictatorship and rejection of democracy."
The Freedom and Justice Party said in a statement the demonstrators are attempting to drive a wedge between political parties and the Armed Forces that protected the revolution and handed over power to an elected president.
Nour Party member Tarek al-Sahry rejected the militarization of the state and emphasized his respect for a legitimate, elected government.
The military has been a central force in politics since officers overthrew the monarchy in 1952.
Earlier in the week Morsy sought to dispel speculation that there were growing tensions between the army and his administration.
"There could never be disagreement between the Armed Forces and the presidency, because the president and the Armed Forces are not two factions, they are one, and the Supreme Council of the Armed Forces is extremely professional," Morsy said during an interview with state TV Sunday.
Edited translation from Al-Masry Al-Youm